Fact Check: Did Demar Hamlin's Ambulance Exit the Field Under a Canopy Advertising for Pfizer?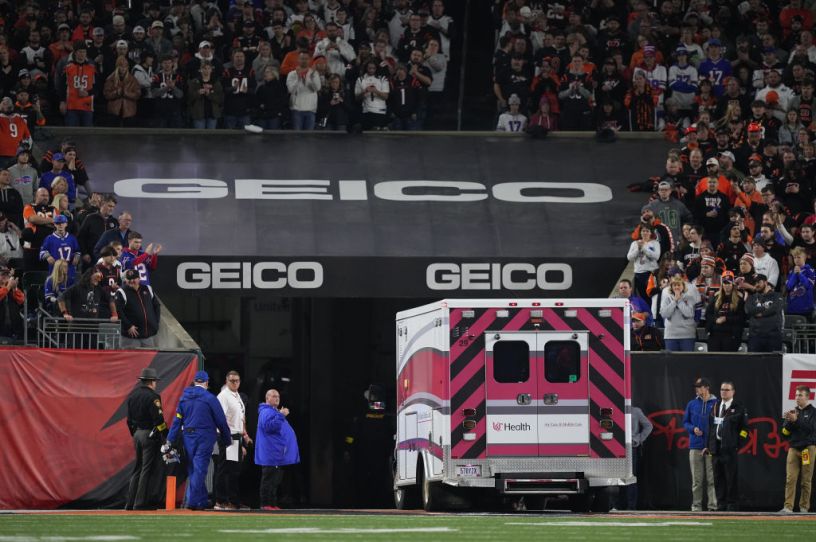 An ambulance carries Damar Hamlin of the Buffalo Bills after he collapsed after making a tackle against the Cincinnati Bengals on January 2, 2023 in Cincinnati, Ohio. (Photo by Dylan Buell/Getty Images.)
A photo purporting to show the ambulance escorting Buffalo Bills safety Damar Hamlin from the field of play driving beneath an advertisement for Pfizer has been digitally altered.
The fake photo shows the ambulance exiting the field at Cincinnati's Paycor Stadium under a canopy advertising Pfizer, the pharmaceutical company responsible for one of the most widely used vaccines against the COVID-19 virus. Underneath is the caption, "When a picture paints a thousand words."
An authentic photo of the scene can be viewed here (as well as above) and shows that the canopy above the exit tunnel in question is actually advertising the insurance company Geico.
In the wake of Hamlin's life-threatening cardiac injury sustained during an NFL game against the Cincinnati Bengals on January 2, vaccine skeptics made claims that Hamlin's injury may have been caused in part by the vaccine itself. 
As of the time of writing, there is no medically attested evidence that the COVID-19 vaccine contributed to Hamlin's collapse. Doctors from the University of Cincinnati Medical Center where Hamlin received treatment said he would likely need to undergo more testing to determine the cause.    
If you have a claim you would like to see us fact check, please send us an email at factcheck@thedispatch.com. If you would like to suggest a correction to this piece or any other Dispatch article, please email corrections@thedispatch.com.