Fact Check: Do Booster Shots Increase a Person's Likelihood of Getting COVID?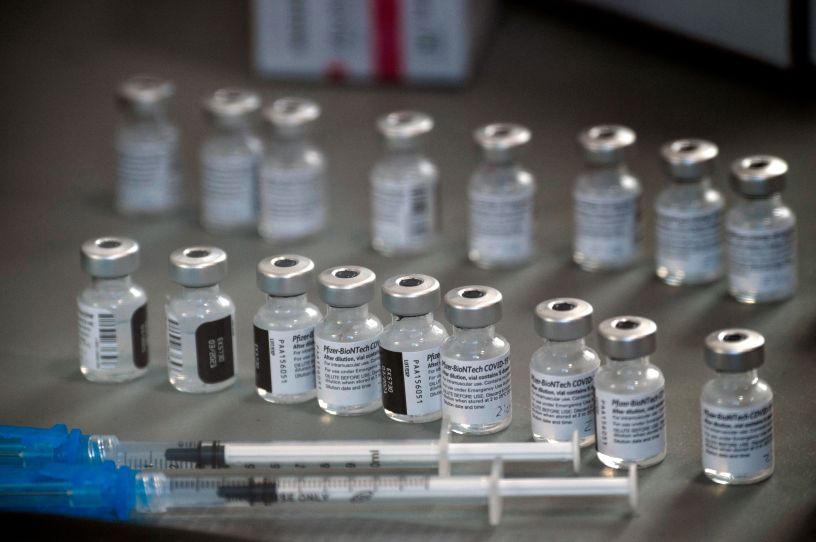 (Photograph from Getty Images.)
An article from ​​The Defender claims that getting more COVID boosters increases a person's likelihood of getting COVID. The article is written by Dr. Joseph Mercola, a frequent purveyor of vaccine misinformation.
According to the article: "Scientists warn that repeated COVID-19 boosters may result in lowered immunity through a process known as 'original antigenic sin,' or 'immune imprinting' — making you more susceptible to symptomatic infections."
As we have previously reported, The Defender is a news website of the Children's Health Defense, a non-profit organization that aims to "end childhood health epidemics by working aggressively to eliminate harmful exposures, hold those responsible accountable, and to establish safeguards to prevent future harm."
The founder of the organization is Robert Kennedy Jr., a known anti-vaccine activist, who in February 2021 was banned from Instagram for sharing COVID-19 misinformation. In August 2022, Facebook and Instagram removed the accounts of the Children's Health Defense as well.
Stanley Perlman, professor of microbiology and immunology at the University of Iowa, explained the concept of "original antigenic sin" or "immune imprinting." When we're vaccinated, our bodies produce a strong response to the new pathogen. When we're exposed to a similar pathogen, we may respond less vigorously to parts of the new pathogen that are novel. "In other words, the first exposure 'imprints' the immune response, which influences the subsequent responses to subsequent challenges with variants," Perlman said.
Mercola uses this idea of "original antigenic sin," which is indeed a real concept, to promote the unproven claim that getting COVID-19 boosters makes you more susceptible to COVID-19.
William Schaffner, infectious diseases specialist and Vanderbilt University School of Medicine professor, told The Dispatch Fact Check that original antigenic sin has been "on the minds of the Food and Drug Administration and vaccine investigators from day one."
He noted, however, that this has not been a problem and that on the contrary, "these boosters appear actually to provide enhanced antibodies and indeed, the boosters provide a broader antibody picture, which protects better against variants."
Similarly, Robert Garry, a Tulane University virologist, said in an email to The Dispatch Fact Check that there is "no evidence whatsoever that OAS [original antigenic sin] is reducing the effectiveness of the mRNA vaccines or booster."
"​​OAS or imprinting is real and it may explain, for example, why younger people had higher mortality to the 1918 flu. However, imprinting may make the immune response more effective or less effective based on the pathogen, timing etc.," Garry said. "In the case of SC2 [COVID-19], natural infection does seem to result in significant imprinting and perhaps—emphasis here on perhaps—a bit more susceptibility to future infections. In contrast the vaccines hold up well and … multiple vaccinations with the mRNA vaccine increase and broaden your immune response."
Mercola also makes a claim about "vaccine shedding," saying: "The COVID-19 jab and the flu vaccine are the No. 1 and No. 2 most dangerous injections respectively, based on adverse event reports and payouts from the U.S. Vaccine Injury Compensation Program. Both are also capable of shedding, and both can make you more prone to infection as their protection wears off."
The COVID-19 vaccine is incapable of shedding, as we have reported before. Vaccine shedding does not occur with messenger RNA (mRNA) vaccines because there is no virus in the vaccine.
Mercola also claims that in addition to "the antigenic sin possibility" the COVID-19 vaccine is associated with "serious side effects." According to Mercola: "As of September 2, just 21 months into the COVID-19 jab's existence, 1,400,350 post-jab injuries have been reported to the Vaccine Adverse Event Reporting System (VAERS)."
This is misleading reporting because VAERS data is unreliable. The system is managed by the CDC and the FDA but, as we have reported, it contains unverified and unvetted information that is submitted by the public.
According to the VAERS website: "VAERS reports may contain information that is incomplete, inaccurate, coincidental, or unverifiable. Reports to VAERS can also be biased. As a result, there are limitations on how the data can be used scientifically. Data from VAERS reports should always be interpreted with these limitations in mind."
If you have a claim you would like to see us fact check, please send us an email at factcheck@thedispatch.com. If you would like to suggest a correction to this piece or any other Dispatch article, please email corrections@thedispatch.com.