Fact Check: Has No Labels Said It Will 'Do What It Takes' to Help Trump?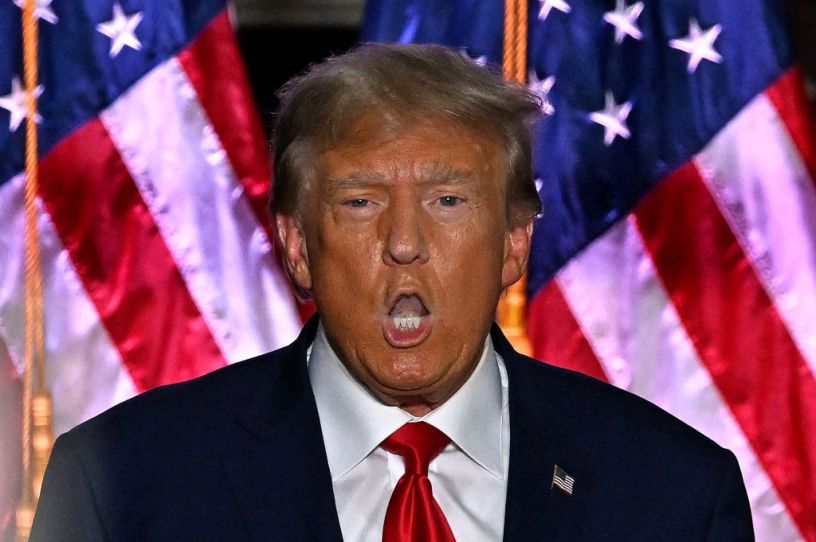 FormerPresident Donald Trump arrives to deliver remarks at Trump National Golf Club Bedminster in Bedminster, New Jersey, on June 13, 2023. Trump appeared in court in Miami for an arraignment regarding 37 federal charges regarding his mishandling of classified material after leaving office. (Photo by Ed Jones/AFP/Getty Images.)
A recent tweet from the Lincoln Project claims that No Labels, the nonpartisan political organization considering fielding a third-party presidential candidate, "is on record saying they'll do what it takes to hurt Biden and help Trump."
This claim is false and is in fact refuted by an article that the Lincoln Project included in its tweet. No Labels leadership has asserted that it will pursue a third-party ticket only if it is confident it can win.
The article, from The Hill, cites an NBC interview with Nancy Jacobsen, No Labels founder and CEO, where she said, "We will not spoil for either side. The only reason to do this is to win."
"We're not going to offer our ballot-line if it looks like it's going to be a wasted vote," Jacobsen said in the same interview.
"We are clear and transparent about not doing anything to help our nation step backwards with Trump," Benjamin Chavis, a former CEO of the NAACP and current national co-chair of No Labels said last month in a No Labels statement.
"If we find that the polls are changed and Joe Biden is way, way out ahead, and the person who the Republicans may choose—and if they continue to choose Donald Trump, even though he's been indicted—then No Labels will stand down," Chavis told NBC.
"We have no interest in fueling a spoiler effort," said No Labels chief strategist, Ryan Clancy, in a radio interview in April. If no third-party candidate that has a genuine chance of winning emerges, "We will fold up shop on this effort and we will just stand down and double down on the work we've been doing in Congress," said Clancy.
If you have a claim you would like to see us fact check, please send us an email at factcheck@thedispatch.com. If you would like to suggest a correction to this piece or any other Dispatch article, please email corrections@thedispatch.com.