No Labels, Big Plans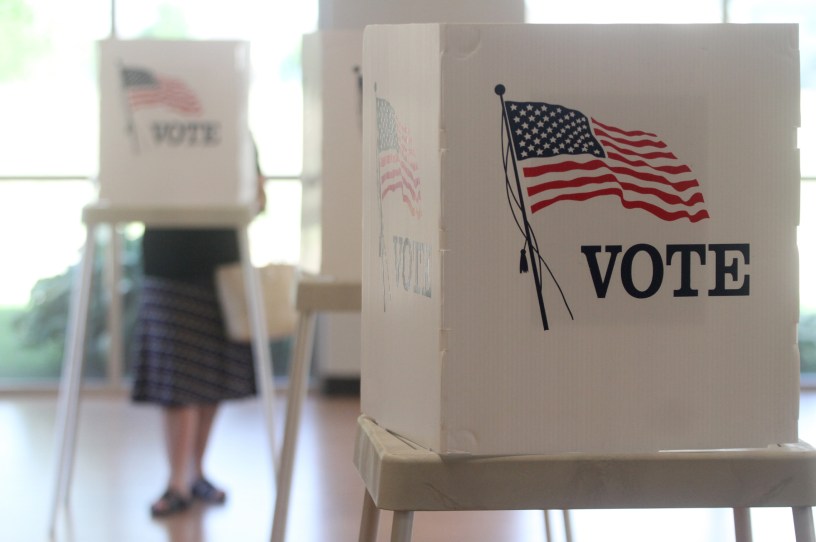 Voting booths stand ready for use in a U.S. election. (Photo from Getty Images.)
Happy Monday! Three cheers for Iowa Sen. Chuck Grassley's ancient vacuum cleaner Beth, which seems to have made it through another holiday weekend.
Up to Speed
President Joe Biden said Monday that, while he has not yet firmed up plans for an official campaign launch, he intends to run for reelection next year.
First-term Sen. Kyrsten Sinema of Arizona is reportedly laying the groundwork for a reelection bid in 2024, the Wall Street Journal reports. Sinema changed her party affiliation from Democratic to independent earlier this year and has not formally announced whether she will seek another term.
Democratic Sen. Bob Casey of Pennsylvania announced Monday morning that he will run for re-election in 2024.
Democratic Sen. Richard Blumenthal of Connecticut, 77, underwent surgery Sunday after a Saturday fall at a victory celebration for the University of Connecticut men's basketball team in Hartford left him with a fractured leg. Blumenthal said Sunday that the surgery was "completely successful" and that he plans to be in the U.S. Capitol next week when the Senate returns from recess.
House Foreign Affairs Chairman Michael McCaul said during an interview from Taipei last week that if China invades Taiwan, congressional authorization of U.S. troops to defend the island is a distinct possibility. "If communist China invaded Taiwan, it would certainly be on the table and something that would be discussed by Congress and with the American people," McCaul told Fox News.
Two federal judges from Texas and Washington issued two conflicting rulings on Friday regarding the Food and Drug Administration's approval of mifepristone, an abortion pill that has been available to women for more than two decades. U.S. District Judge Matthew Kacsmaryk ordered a hold on federal approval of the drug; shortly thereafter, U.S. District Judge Thomas Rice essentially forbade the government from revoking its approval. The Biden administration appealed Kacsmaryk's decision Friday evening; the competing rulings suggest the case is likely bound for the Supreme Court.
The Department of Education introduced a long-anticipated draft rule on Thursday that would prohibit blanket bans on transgender athletes in K-12 and college-level sports teams under Title IX, but would allow individual schools to draft sex-related criteria that limits transgender students from participating in sports for the purpose of preventing sports-related injuries and ensuring fair competition.
No Labels, Big Plans
As Donald Trump widens the gap in early GOP primary polling over his top potential challenger, Florida Gov. Ron DeSantis, a 2020 rematch between the former commander in chief and President Joe Biden is looking more likely. But one outside group is laying the groundwork to offer Americans an alternative.
The nonpartisan organization No Labels is in the process of securing ballot lines for a potential independent presidential ticket in every state that allows for them—37 or 38, by the group's count. It has already succeeded in four: Alaska, Arizona, Colorado, and Oregon. It's a significant effort, with $70 million behind it.
The plan is already kicking up resistance. Last month, Arizona Democrats sued Secretary of State Adrian Fontes to block the Democrat from adding No Labels to the ballot, accusing the group of "not following the rules for political party recognition, while attempting to be placed on the ballot along actual, functioning political parties who do."