Fact Check: Joe Biden Has Not Endorsed Donald Trump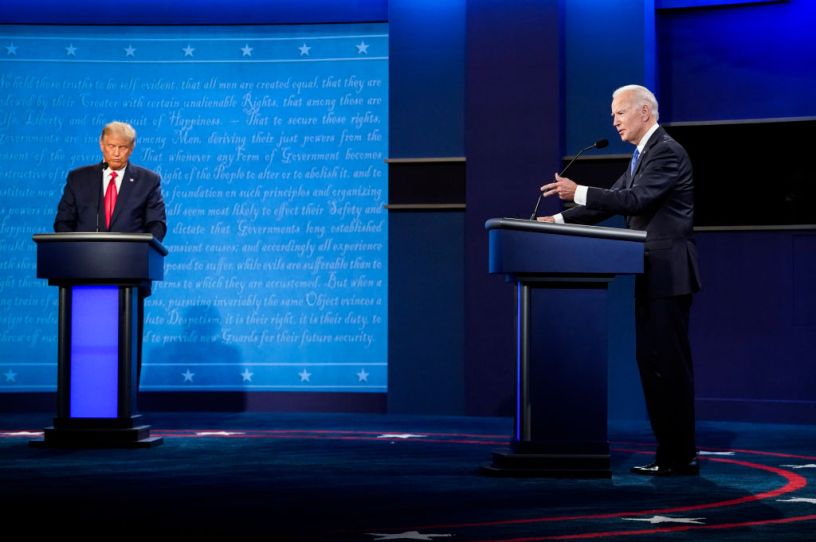 President Joe Biden and Former President Donald Trump at the final presidential debate before the 2020 General Election. (Photo by Jabin Botsford/The Washington Post / Getty Images)
A video clip of Joe Biden speaking at a campaign rally in 2020 has been taken out of context to suggest that the candidate endorsed his 2020 general election campaign rival. The misleading clip originally circulated online in 2020, when it was retweeted by then-President Donald Trump. It is now being recirculated in the wake of the announcement made by President Biden that he will seek a second term in office.
In the clip, taken from a March 2020 speech given by Biden in Kansas City, Missouri, Biden appears to stumble over his words before saying "we can only re-elect Donald Trump." The clip cuts off before the end of Biden's sentence. As is shown at the 38:20 timestamp in this livestream of the speech uploaded by a local news channel, Biden in fact said, "We can only re-elect Donald Trump if, in fact, we get engaged in this circular firing squad here."
If you have a claim you would like to see us fact check, please send us an email at factcheck@thedispatch.com. If you would like to suggest a correction to this piece or any other Dispatch article, please email corrections@thedispatch.com.