Fact Check: Teachers Union Head Says She Wanted Schools to Reopen During Pandemic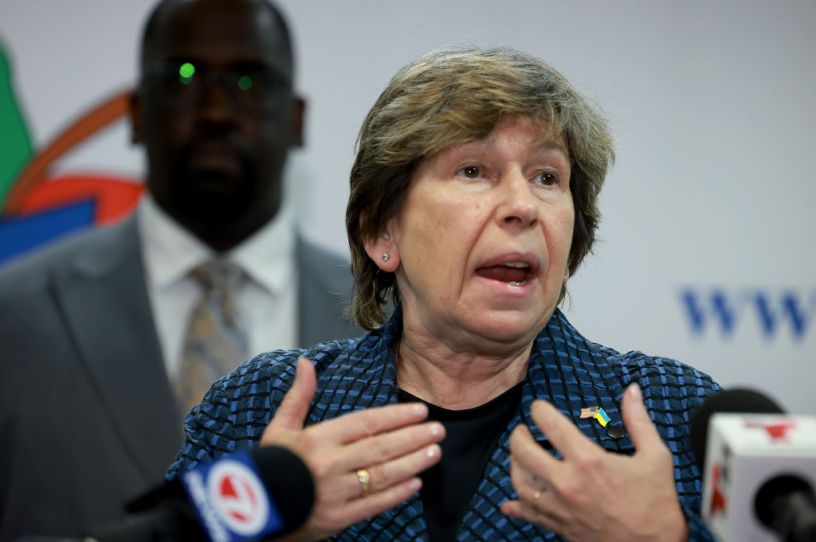 Randi Weingarten, President of the American Federation of Teachers, on May 3, 2023 in Tamarac, Florida. (Photo by Joe Raedle/Getty Images)
During testimony before a House of Representatives panel on April 26, the president of the American Federation of Teachers (AFT), Randi Weingarten, claimed that her organization "spent every day from February [2020] on trying to get schools open. We knew that remote education was not a substitute for opening schools," she said, "but we also knew that people had to be safe." Weingarten went on to argue that the teachers union was "simply looking for … clear scientific guidance" as to the conditions of a safe school reopening policy.
But Weingarten's claims leave out important context concerning AFT's decisions during the COVID-19 pandemic. Weingarten and her union repeatedly resisted school reopenings throughout the pandemic, often despite scientific guidance offered by accredited public health bodies.
Throughout 2020, Weingarten repeatedly stated her opposition to the reopening of schools, at one point calling reopening policies "reckless, callous, cruel." The AFT also threatened to strike in July 2020 if its demands were not met prior to reopening.
Far from "looking for clear scientific guidance" from accredited bodies as to safe reopening conditions, the AFT actively sought to influence the policies of the Centers for Disease Control and Prevention (CDC). Weingarten wrote an open letter to the CDC in March 2021, a year after the onset of the pandemic, in which she objected to a change in the CDC's guidance on social distancing in schools. The change in question from the CDC was from a recommendation that adults and children alike keep 6 feet apart to guidance suggesting 3 feet of distance between children would be acceptable. Weingarten wrote that she and her union were "not convinced that the evidence supports changing physical distancing requirements at this time." One of the authorities Weingarten cited in the letter in opposition to the CDC's guidelines was the Institute for New Economic Thinking, an organization that makes no claims to expertise in the area of medical science of public health.
Reporting by Joe Nocera of Bloomberg revealed the lobby continued in private. Weingarten and the AFT's health policy official, Kelly Trautner, had multiple conversations and email exchanges with CDC Director Rochelle Walensky. Trautner complained to Walensky in a February 2021 email that the latest CDC guidance didn't contain "provisions providing for when schools should close," for example.
The American Enterprise Institute's Return to Learn tracker also shows that areas with large AFT local chapters and affiliates took longer to return to in-person schooling than other parts of the country.
There is no evidence to support Weingarten's claim that the policies regarding school reopenings she pursued and endorsed as president of the American Federation of Teachers were based exclusively on scientific guidance.
If you have a claim you would like to see us fact check, please send us an email at factcheck@thedispatch.com. If you would like to suggest a correction to this piece or any other Dispatch article, please email corrections@thedispatch.com.