Fact Checking Claims That 'It Should Take One Day' to Count Ballots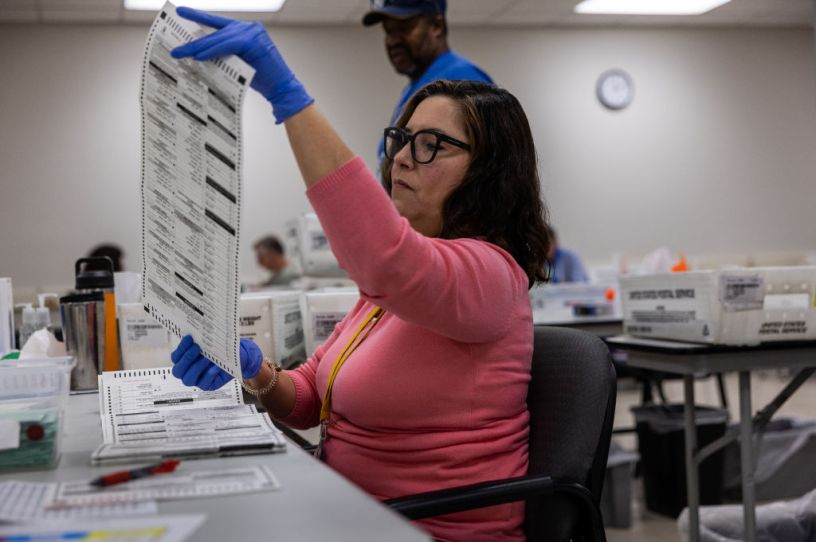 Election workers sort ballots at the Maricopa County Tabulation and Election Center on November 09, 2022 in Phoenix, Arizona. (Photo by John Moore/Getty Images)
A viral tweet from Arizona GOP Rep. Paul Gosar claims,"It shouldn't take days or weeks to count all legal votes in an election. It should take one day, and one day is all it took until very recently."
Gosar's claim is false.
Douglas Jones, a professor of computer science and an election expert at the University of Iowa explained to The Dispatch Fact Check via email that most states certify their official election counts about a week after the election.
Jones laid out several reasons why this might be the case.
First, military and overseas ballots typically have a deadline after Election Day.
"That's because, even if you mail out those absentee ballots as early as possible, poor mail in war zones and third-world countries would disenfranchise military and overseas voters if we didn't give them extra time," Jones said.
Another reason the election count is certified about a week after the election: "Many states have or until recently had rules that ballots postmarked by the day before the election would count even if late, and they kept processing absentee ballots until the military and overseas deadline," Jones said.
Also, it takes a considerable amount of time to process absentee ballots.
"In jurisdictions (mostly in the West) where a large fraction of ballots (one-third or more) has been absentee or postal for years, the simple flood of paper takes time to process," Jones noted.
In 1998, Oregon began distributing all ballots by mail. Washington did the same in 2011, and then Colorado in 2013, according to the MIT Election Data and Science Lab. (Although these states issue all ballots by mail, voters are not required to return ballots via mail.)
David Becker, the executive director and founder of the nonpartisan Center for Election Innovation and Research, said Gosar is "spreading disinformation." He also noted that ballots have never been counted in one night.
"Arizona election officials are following the law as passed by the Republican majority Arizona legislature, which means they will likely finish counting almost all of the ballots by Friday," Becker said.
Benny White, a Republican elections expert and data analyst in Tucson, also explained that during this particular Arizona election cycle, "party and party leaders have continually told the Republican voters not to turn their early ballots in and to cast them at the last moment, either by walking the ballot into the polling place, or take their early ballot in, and then ask to vote in person." This has caused a significant delay in the processing of early ballots, he added.
If you have a claim you would like to see us fact check, please send us an email at factcheck@thedispatch.com. If you would like to suggest a correction to this piece or any other Dispatch article, please email corrections@thedispatch.com.