Fact-Checking Day 2 of the January 6 Hearings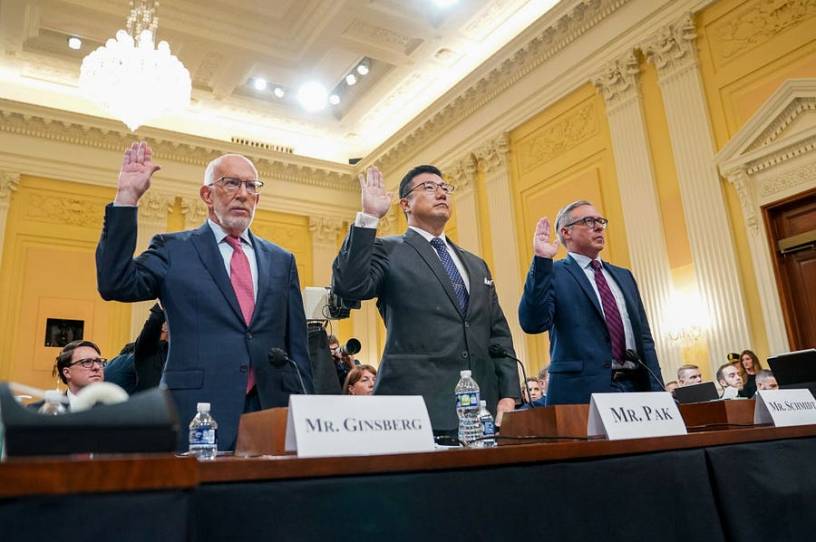 The second day of hearings by the Select Committee to Investigate the January 6th Attack on the United States Capitol focused on Donald Trump's role in knowingly perpetuating the false narrative that the 2020 election was stolen. Witnesses included various members of the Trump administration and Trump advisers who told Trump that he had lost the election. 
As California's Rep. Zoe Lofgren asserted, Trump's plan to overthrow the 2020 election "relied on a sustained effort to deceive millions of Americans with knowingly false claims of election fraud."
During the hearing, we were reminded of the many voter fraud claims that Trump promoted immediately following the election, with the panel affirming, once again, that the 2020 election was not stolen. While we revisit Trump's original claims, and the panel's efforts to rebut those false claims, we'll also look at our original fact checks on these long debunked voter fraud allegations from the 2020 election.  
The "red mirage" and "ballot dumps"
Early in the hearing, Chris Stirewalt, contributing editor at The Dispatch and former Fox News editor, testified in front of the January 6 committee and affirmed that President Joe Biden won the 2020 election. He then explained the concept of the "red mirage," which, as Lofgren noted, was a term used frequently during the 2020 election. As Stirewalt explained, it refers to the concept of Democrats voting early or absentee more frequently than Republicans. "In every election, Republicans win Election Day and Democrats win the early vote," said Stirewalt. "In every election, certainly in national elections, you expect to see the Republicans with a lead—but it's not really a lead."
Stirewalt's explanation was then followed by a clip of former Attorney General Bill Barr, who recalled Trump's claims of voter fraud on Election Night. Barr first recounted that Trump claimed there was "major fraud underway." Trump's claim, however, as Barr noted was based on "the dynamic that at the end of the evening a lot of Democratic votes came, which changed the vote count in certain states." Barr noted in the clip that this was expected, and not evidence of fraud. 
Here's our fact check on what Trump referred to as suspicious "vote dumps."
We explained too that there were no vote dumps, and what looked like "vote dumps" was simply the phenomenon that both Barr and Stirewalt explained: Mail-in ballots favoring Democrats, partially because Trump had spent months prior to the election warning against mail-in votes. As we noted:
election experts and some Republicans expressed concern that these warnings would diminish mail-in votes for Republicans. When those votes were counted later in the process they sometimes caused significant bumps in Biden's vote count. This is not evidence of voter fraud.
Later in the hearing, viewers were shown a clip of a November 29 Fox News interview in which Trump alleged there were "massive ballot dumps" in Michigan and Pennsylvania. 
Lofgren reminded viewers that Barr had told the Associated Press on December 1, 2020, that there was no evidence of widespread voter fraud. According to the AP: "Barr told the AP that U.S. attorneys and FBI agents have been working to follow up specific complaints and information they've received, but 'to date, we have not seen fraud on a scale that could have effected a different outcome in the election.'" 
Trump's repeated claims about ballot dumps, especially in Michigan, is particularly significant because, as The Dispatch's Alec Dent noted, several of the false claims about Dominion Voting Systems can be traced back to its supposed role in vote-counting errors in Antrim County, Michigan.
Here's our fact check on the alleged ballot dump in Michigan. As we noted at the time:
Antrim County revealed it had inadvertently misreported a number of votes in unofficial results, with state GOP Chairwoman Laura Cox claiming that the error was due to "tabulating software glitched and caused a miscalculation of the votes."
We further explained in our fact check that Michigan's secretary of state announced that it was not a software issue, but "user human error" that led to the misreporting. The error was corrected and did not impact the final vote tally. 
Dominion Voting Systems 
In his testimony, Barr also mentioned telling Trump that his false claims about Dominion Voting Systems were "idiotic." He described the false claims about Dominion as the "most disturbing" because he saw "absolutely zero basis for the allegations, but they were made in such a sensational way that they were obviously influencing a lot of members of the public."
Only one day after Barr told Trump that the claims about Dominion were baseless, Trump repeated those very same lies, describing a voting system where votes flipped from Trump to Biden. 
Here's one of our extensive fact checks on Dominion voting systems, in which we noted there is no evidence that Dominion software has been used to change votes from Trump to Biden. 
Barr also said that in a meeting with Trump on December 14, Trump presented him with a report from a "reputable security firm" identified as Allied Security Operations, claiming to have "absolute proof" that "the Dominion machines were rigged." According to Barr, Trump also said that "the report means that I am going to have a second term." But Barr described the report as "amateurish." Barr added: "The statements were made very conclusory like this—these machines were designed to, you know, engage in fraud or something to that effect, but I didn't see any supporting information for it."
Here's our fact check on a report from Allied Security Operations. 
In December 2020, Allied Security Operations created a forensics audit report to "test the integrity of Dominion Voting Systems in how it performed in Antrim County, Michigan for the 2020 election."
As we noted, however, the report was riddled with errors. Russell Ramsland Jr., who works for Allied Security Operations Group, also has a history of spreading disinformation in error-prone affidavits for lawsuits (one of which, for example, mistook Minnesota for Michigan).
We also noted that Michigan elections director Jonathan Brater also addressed the Antrim County voter fraud allegations and said in a December 13 court filing that the audit report in question "makes a series of unsupported conclusions, ascribes motives of fraud and obfuscation to processes that are easily explained as routine election procedures or error corrections, and suggests without explanation that elements of election software not used in Michigan are somehow responsible for tabulation or reporting errors that are either nonexistent or easily explained."
2,000 Mules
In his testimony, Barr also referenced right-wing provocateur Dinesh D'Souza's movie, 2,000 Mules, saying that he had "not seen anything since the election that changes my mind on that, including the 2,000 Mules movie." In his testimony, Barr said he was "unimpressed" with the film. 
Here's our fact check of D'Souza's 2,000 Mules.
In short, D'Souza claims that "paid professional operatives" delivered "fraudulent and illegal votes" to mail-in drop boxes in Michigan, Pennsylvania, Wisconsin, Arizona, and Georgia. The movie relies on video surveillance footage and cell phone geolocation data, but the film is riddled with errors and is based on a faulty premise. For one, as Barr notes, we never see video footage of any of these supposed mules going to drop boxes more than one time. 
Also, as we noted, D'Souza claims through anonymized geolocation cell phone data, which Barr described as "singularly unimpressive," to have identified "mules" who visited multiple mail-in ballot boxes. 
The issue with this though, as Barr also noted in his testimony, is that because ballot boxes are intentionally placed in high traffic areas, there's no way of knowing if a person dropped ballots in a ballot box or if they simply passed by the vicinity of a drop box. 
"The photographic evidence did not establish widespread illegal harvesting," Barr said. "The other thing people don't understand is that it's not that clear that even if you can show harvesting that that changes the results of the election." 
This is something we noted in our fact check also: "Even if a vote is illegally harvested in a state where harvesting is illegal, but the vote itself has not been tampered with in any way (i.e. it is signed and sealed) the vote itself would still be considered a legitimate legal vote." 
Voter fraud Claims from "whistleblower" Jesse Morgan 
Another who testified at the hearing was former Acting Deputy Attorney General Richard Donoghue, who mentioned speaking to Trump about an allegation from a Pennsylvania truck driver who, as Donoghue, described, "believed honestly that he had transported an entire tractor trailer truck full of ballots from New York to Pennsylvania."  He explained that he had looked at the allegation and told Trump that it was not supported by the evidence. 
"And this was again out there in the public and discussed and I essentially said, look, we looked at that allegation," Donoghue said. "We looked at both ends, both the people who load the truck and the people who unload the truck. And that allegation was not supported by the evidence."
Here's our fact check of Jesse Morgan's claims.
For context, Morgan, who claims to work for the U.S. Postal Service as a subcontractor truck driver, alleged that he drove hundreds of thousands of fraudulent mail-in ballots across state lines, from Bethpage, New York, to Lancaster, Pennsylvania. As we mentioned, Morgan's claim quickly went viral. On December 2, Morgan was interviewed by Lou Dobbs for Fox Business, and President Trump tweeted about the appearance. 
But there is no evidence to suggest the claim is true. Brett Hambright, a spokesman for the district attorney's office in Lancaster, told The Dispatch Fact Check via email: "We were made aware of this allegation. An allegation such as this one (involving multiple states) would typically be handled by a federal agency and our office would normally assist if requested. Our assistance has not been requested, but we will assist if asked. Additionally, we are confident that any 'mail-in' ballots dropped off in person in Lancaster are accounted for, as the drop-off box was monitored by camera."
Craig Lehman, commissioner for the County of Lancaster also told The Dispatch Fact Check via email that "receiving absentee applications in which the registered PA voter requests their ballot to be mailed out of state, while it is not the norm, it is something that we see for every primary and general election."
"Suitcases of fraudulent ballots"
Donoghue also said that Trump had fixated on a claim about a suitcase that supposedly had fraudulent ballots. He explained in his testimony that the alleged suitcase was actually "a wheeled bin where they carry the ballots" and said that "that's just how they move ballots around that facility."
We fact checked this claim as well. 
Gabriel Sterling, Georgia's voting implementation manager and a Republican, appeared on the Dispatch Podcast in December 2020. He explained then that the containers described as suspicious "suitcases" were actually the "carrying cases used in dozens of counties to haul around ballots so you don't have to be carrying boxes. They have wheels on them."
If you have a claim you would like to see us fact check, please send us an email at factcheck@thedispatch.com. If you would like to suggest a correction to this piece or any other Dispatch article, please email corrections@thedispatch.com.