Has the Medicare Cost Problem Gone Away?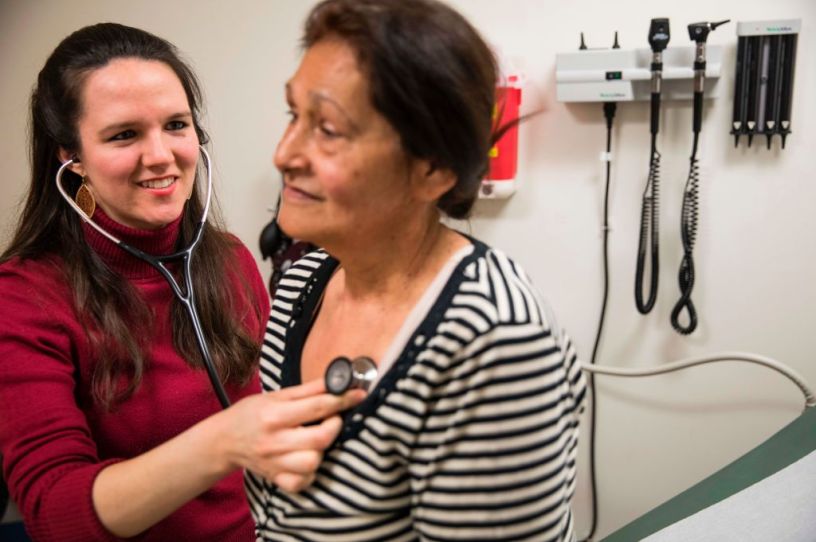 A nurse examines a patient at the Esperanza Health Center in Philadelphia, Pennsylvania, on March 13, 2017. (Dominick Reuter/AFP/Getty Images)
The New York Times last month published an analysis of Medicare spending trends and concluded that, contrary to the program's budget busting reputation, annual cost growth has been moderate over the past decade or so. The implication is that the scramble to find more Medicare savings to narrow current and projected federal deficits should be reevaluated, given that previous predictions of runaway costs were off the mark. It's a comforting picture, especially to those who would prefer to expand Medicare. But does the Times provide the full story?
Medicare is a vast and complex program that, at any given moment, has pressures pushing costs both up and down. Analysts need to look at the full picture to get a balanced view of what is underway.
Even if per person cost escalation has moderated (which it has), many previous years of very high-cost growth already increased the program's total outlays to a very high level, and there is no real prospect of a reversal. Moreover, the reasons for the current slowdown may not be sustainable: For example, payments per service under current law are not expected to keep up with inflation and therefore may not be sufficient to ensure full access to care for the program's beneficiaries. With aging baby boomers pushing enrollment up from 66 million today to 83 million by 2040, aggregate costs will grow very rapidly over the coming three decades under almost all realistic scenarios.
In other words, much as many elected officials might wish otherwise, the problem of high-cost entitlement programs outpacing government revenue remains central to the growing risk of a fiscal crisis.
You're out of free articles
Create an account to unlock 1 more articles