Have the Democratic Debates Even Mattered?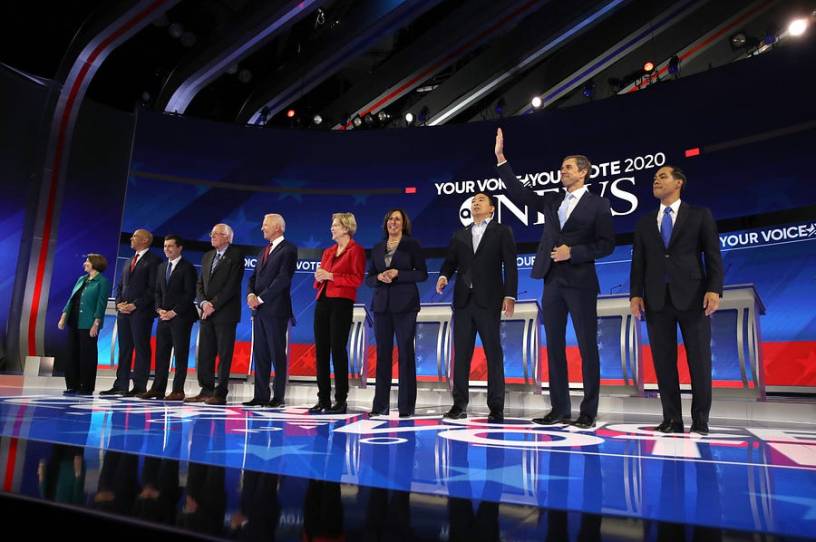 The last Democratic primary debate before Iowa caucus goers have their say takes place tonight. Since the process started in June, there have been six debates. The field has narrowed from 28 candidates to 12—and the audience for these affairs has dwindled from 27 million live and streaming viewers to just 8 million in November. 
With just three weeks to go before the caucus, what have we learned? And what effect have the debates had, if any?
Polls are usually a lagging indicator of voter sentiment, but the only statistically significant metric we have to measure likely voters. Joe Biden was the obvious frontrunner before the first debate. Although his numbers were starting to edge downward from a high of 41 percent and settling into the low 30s, he was still 15 points ahead of his closest rival, Bernie Sanders. In the month before the debate, Elizabeth Warren had surged into a solid third place with 12 percent. Harris and Buttigieg were clumped together in fourth place with about 7 percent support. 
Six months later? The race looks remarkably the same in national polls. Joe Biden is at 29.3 percent and Bernie Sanders is nine points behind in second place.  Warren is at 14.8 percent and Buttigieg is at 7.5 percent. 
You're out of free articles
Create an account to unlock 1 more articles