Hezbollah Plays the Waiting Game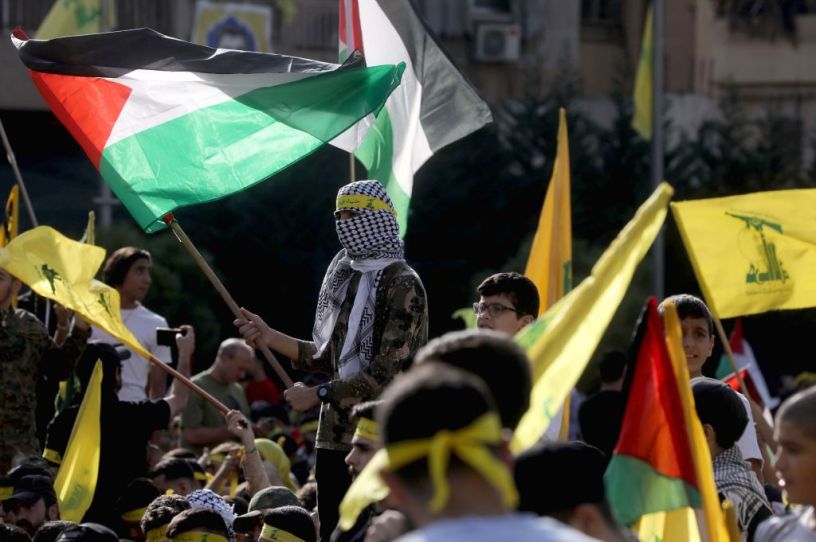 Supporters of Hezbollah gather at al-Ashoura square in southern suburbs of Beirut, Lebanon, to listen to the speech of the Secretary-General of Hezbollah Hassan Nasrallah on November 3, 2023. (Photo by Marwan Tahtah/Getty Images)
In his first speech since Hamas' surprise attack last month, Hassan Nasrallah, the leader of Lebanese Hezbollah, threatened to join the fight against Israel but stopped short of declaring all-out war. "All options are on the table," he warned from southern Beirut on Friday.
Since then, Hezbollah has upped both the frequency and intensity of its cross-border attacks on Israel, raising concerns among Israeli officials of a second front in the North as their troops become more enmeshed in Gaza. But such a war, even against a distracted Israeli Defense Forces, would likely result in major military and political fallout for the Iranian-backed terrorist group. While the danger of greater Hezbollah involvement remains high, what it might look like—and how much destruction it could unleash on an embattled Israel—is still unknown.
Last month Hezbollah threatened to enter if Israel launched a ground offensive in Gaza, but has thus far stuck to restrained, cross-border attacks—even as IDF units push further into the Gaza Strip in the advance toward Hamas' headquarters. At the same time, Nasrallah has distanced Hezbollah and Iran from Hamas' initial October 7 onslaught, claiming that it was "100 percent Palestinian in terms of both decision and execution" in his speech last week.
This reluctance points to the high price of full involvement for Hezbollah and its Iranian backers. The Lebanese militants are Iran's most loyal, established proxy in the region, and a declaration of war runs the risk of delivering Israel a key military victory against its longtime adversary in Tehran. And it's a war Hezbollah, also a political party in Lebanon, may not survive amid brewing discontent at home.
You're out of free articles
Create an account to unlock 1 more articles