How Not to Fight COVID Learning Loss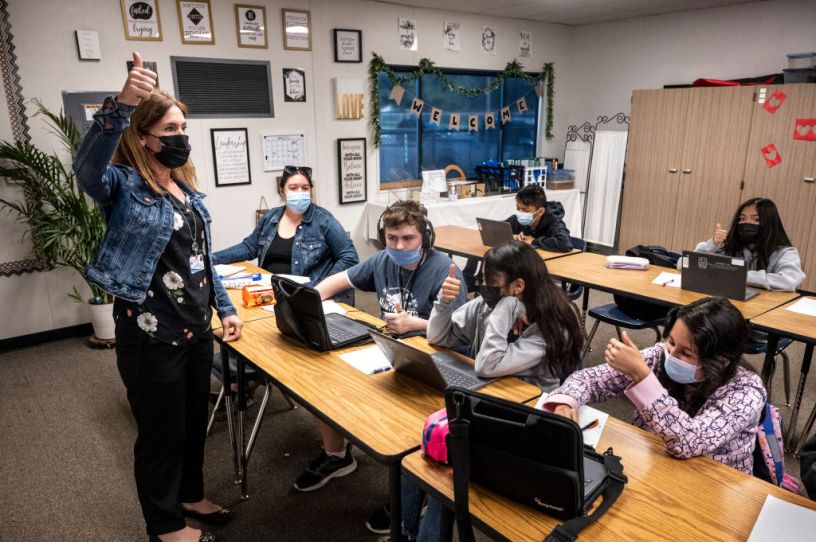 (Photo by Paul Bersebach/MediaNews Group/Orange County Register via Getty Images)
Among the trillions of dollars spent on COVID relief, $200 billion went to K-12 schooling. Early rounds of funding weren't enough to get school systems like New York, Los Angeles, and San Francisco to open their doors—or even to offer full-day remote schooling. That was the case well after it was clear that kids could and should be back in classrooms. In fact, more than 90 percent of the $122 billion earmarked for schools in the 2021 American Rescue Plan remained unspent as of the end of the last school year.
This might suggest that care is warranted when considering the merits of earmarking even more COVID-related funds for K-12 schooling. But the nation's education researchers beg to differ. Last week, the American Education Research Association (AERA) unfurled a new "study" suggesting that, "$700 billion will be needed to offset COVID-induced learning loss"—$500 billion more than what's already been spent.
The study, published in Educational Researcher by University of Delaware professor Kenneth Shores and George Mason University professor Matthew Steinberg, uses some impressive-looking math and a lot of hand-waving to lend a "scientific" imprimatur to the education lobby's demands for more dollars. By imagining some iron-clad relationships between school spending and student outcomes, then plugging in a few cherry-picked examples, Shores and Steinberg promise that spending an extra $350 billion to $1.4 trillion on schooling will remedy learning loss. (If you're wondering about where the $700 billion figure came from, it's kind of in the middle of that range.)
It's worth noting just how much America's school systems are already spending. This year, Chicago Public Schools is spending $29,000 per student. And yet the 2021 Illinois Report Card found that just one-in-four high school juniors could read or do math at grade level. New York City and Washington, D.C., each spent more than $30,000 per pupil in 2020, and that was before they shed students and received federal COVID relief.