Inaccurate Claims Are Circulating About Deaths at Al-Shifa Hospital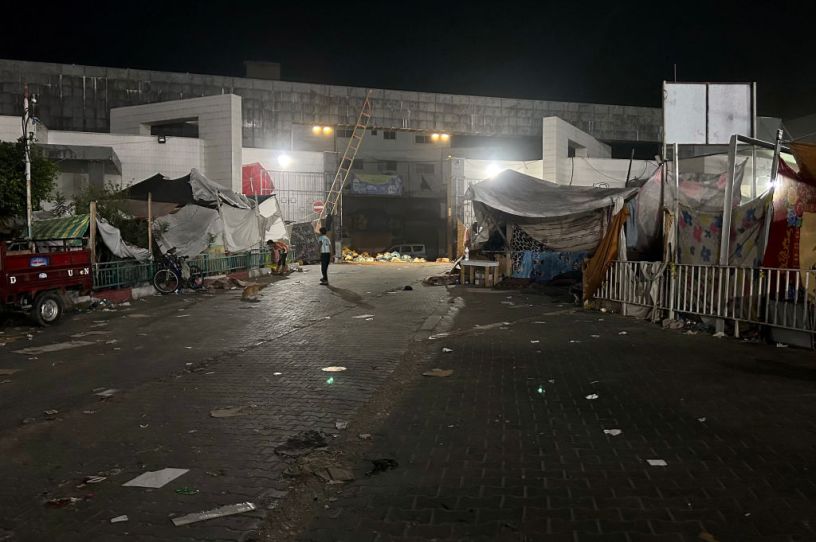 The exterior of Al-Shifa hospital in Gaza City on November 10, 2023, amid ongoing battles between Israel and Hamas. (Photo by AFP/Getty Images)
An image claiming that "All ICU patients at Al Shifa Hospital died" has been spreading rapidly across social media platforms this week. One notable example is an Instagram post uploaded by Omar Suleiman, an American Muslim scholar with 2.4 million followers on the platform. "The Ministry of Health has officially announced the death of all ICU patients in the Alshifa hospital due to the outages of electric power and oxygen," the post's caption reads. "Slow motion genocide. Slaughter and starvation. Disgusting."
Though there have been casualties at Al-Shifa Hospital, the claim that all of its ICU patients died is incorrect.
The photo features the logo of Quds News Network—a prominent Palestinian news site that has a reputation of being affiliated with the terrorist group Palestinian Islamic Jihad—and appears similar in style to a number of other Instagram posts made by the outlet. A tweet from the organization in response to a now-deleted post suggests that the original photo was posted on both the Quds News Network Instagram and X pages, but was then deleted.
"Two patients were martyred in intensive care, but not everyone was martyred," the updated post reads, supposedly quoting the director of the Al-Shifa Medical Complex. This correction has not stopped the image from further spreading across Instagram, X, and Facebook, however.
Despite the inaccuracies of the Quds News Network's initial post, evidence does suggest that conditions at Al-Shifa Hospital are quickly deteriorating. The Hamas-controlled Ministry of Health—which is of questionable reliability—reported that three newborn babies died in the hospital over the weekend, and Doctors Without Borders has described hostilities around the hospital as "non-stop."
The Israel Defense Forces (IDF) have surrounded Al-Shifa Hospital in recent days, and the complex was infiltrated on Tuesday night. Recent reporting indicates that Israeli forces have since uncovered an operational command center and a number of military assets belonging to the Hamas terrorist group within the complex.
Hamas is known to use civilian structures including schools and hospitals as bases of operation, and the IDF has long asserted that Al-Shifa Hospital serves as the terror group's primary headquarters—a claim backed by U.S. intelligence officials. Amnesty International reported that Hamas used abandoned areas of Al-Shifa Hospital in 2014—including the facility's outpatient clinic—for detention, torture, and interrogation. "I can confirm for you that we have information that Hamas and the Palestinian Islamic Jihad use some hospitals in the Gaza Strip, including Al-Shifa, and tunnels underneath them, to conceal and to support their military operations and to hold hostages," John Kirby, a spokesperson for the U.S. National Security Council, told journalists on Air Force One on Tuesday. IDF spokesman Jonathan Conricus led a video tour through one of the complex's captured buildings showing staches of various weaponry and other Hamas military items.
Article 18 of the Geneva Convention forbids attacks on civilian hospitals. However, Article 19 states that, "The protection to which civilian hospitals are entitled shall not cease unless they are used to commit, outside their humanitarian duties, acts harmful to the enemy."
If you have a claim you would like to see us fact check, please send us an email at factcheck@thedispatch.com. If you would like to suggest a correction to this piece or any other Dispatch article, please email corrections@thedispatch.com.