Is Saudi-Israeli Peace Done For?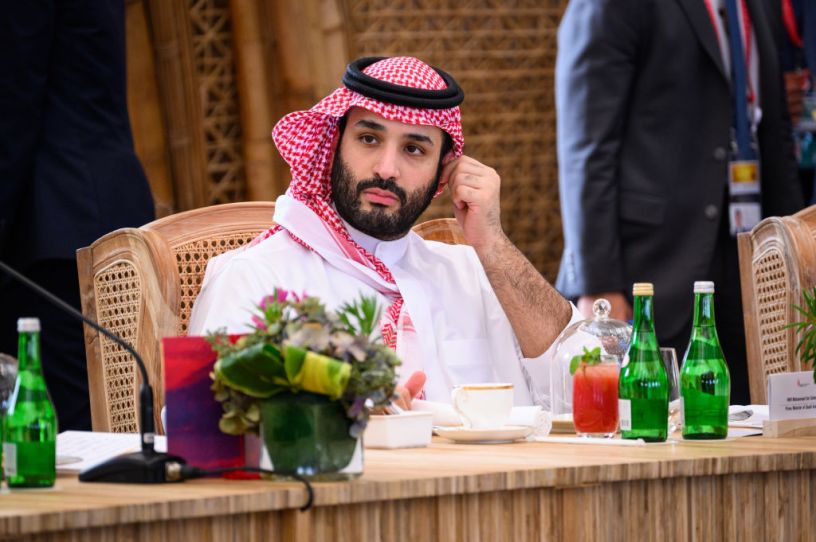 Crown Prince Mohammed bin Salman of Saudi Arabia takes his seat ahead of a working lunch at the G20 Summit on November 15, 2022 in Nusa Dua, Indonesia. (Photo by Leon Neal/Getty Images,)
TEL AVIV, Israel—An unprecedented attack by Hamas and allied Palestinian groups has left some 1,300 Israelis dead, most of them civilians, while an estimated 130 others remain in terrorist captivity. More than 950 Palestinians are also reported to have been killed as Israel mounts its defense, and a looming ground operation in Gaza threatens to multiply the human toll for both sides.
In addition to drawing its enemy into a costly and unwanted war, Hamas' attack appears to have achieved another of its key objectives: derailing U.S.-brokered peace talks between Israel and Saudi Arabia. A Saudi Foreign Ministry statement following the terrorist onslaught blamed "the continued occupation, the deprivation of the Palestinian people of their legitimate rights, and the repetition of systematic provocations against its sanctities." Other sources close to Riyadh confirmed to the New York Times that the negotiations were "on hold" in light of the conflict.
But both Israel and Saudi Arabia's long-term motivations for achieving peace remain, and neither country has fully relinquished its commitment to the cause even as tensions in the region flare. So while Hamas may have disrupted Israel's attempts at fence-mending with the broader Muslim world in the immediate term, it likely also solidified the Palestinians' exclusion from any future deal to the great long-term detriment of the very people it purports to represent.
The surprise assault from Gaza last weekend began as Saudi Arabia and Israel appeared to be on the precipice of hallmark agreement. "Everyday we get closer," Saudi Crown Prince Mohammed bin Salman (MBS), the country's de facto sovereign, said of the deal in an interview with Fox News last month. But instead of handing President Joe Biden his crowning foreign policy achievement ahead of the 2024 election, the Middle East erupted into war.
You're out of free articles
Create an account to unlock 1 more articles