A Mideast Mega-Deal in the Making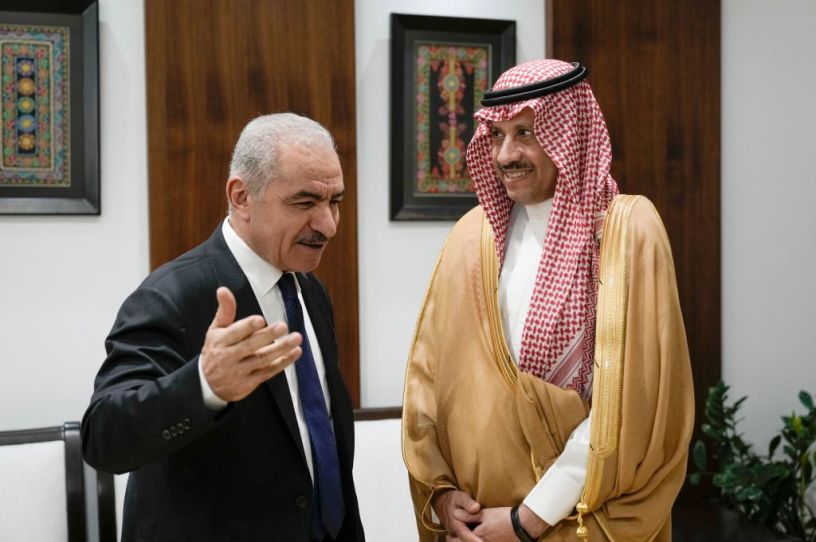 Palestinian Premier Mohammed Shtayyeh welcomes Saudi Arabian Ambassador to Palestine Nayef bin Bandar al-Sudairi at his office in the West Bank city of Ramallah on September 27, 2023. (Photo by MAJDI MOHAMMED/POOL/AFP via Getty Images)
RAMALLAH, West Bank—A major milestone this week marked Saudi Arabia and Israel's continuing talks to normalize their diplomatic relations, which in itself would be an historic achievement. Israeli Tourism Minister Haim Katz arrived in Saudi Arabia on Tuesday to attend a United Nations-hosted tourism conference, the first public trip by any senior Israeli official to the kingdom.
But a different trip that received much less fanfare demonstrated Saudi Arabia's approach to addressing a perennial challenge in the region. For the first time in more than 50 years, a Saudi delegation visited the West Bank Tuesday to meet with top Palestinian officials. The Saudis' renewed outreach—a move in service to their reputation as the global leader of Islam—suggests the kingdom is trying to secure concessions for the Palestinians as part of its own peace with Israel. But the deteriorating legitimacy of Palestinian leadership, both among its own people and in the entire region, could stand in the way.
Saudi Arabia wants to see "a good life for the Palestinians," the country's de facto ruler, Mohammed bin Salman, said in a recent interview. At this stage in the negotiations, that seems to include increased economic support, possible restrictions on Israeli settlement building in the West Bank, and lip service to the future prospect of a two-state solution. But concrete commitments to Palestinian statehood don't appear to have made the cut—and weak and divided Palestinian rule is at least partly to blame.
There has long been disenchantment in the region with Palestinian leadership, a former senior U.S. official familiar with the talks tells The Dispatch. In Gaza, Hamas (the terrorist organization that effectively governs the area) remains still loyal to Iran and committed to violence. And here in the West Bank, the Palestinian Authority (PA) has long been viewed as ineffective and in dire need of fresh leadership.
You're out of free articles
Create an account to unlock 1 more articles