It's Time for House Speaker Mike Gallagher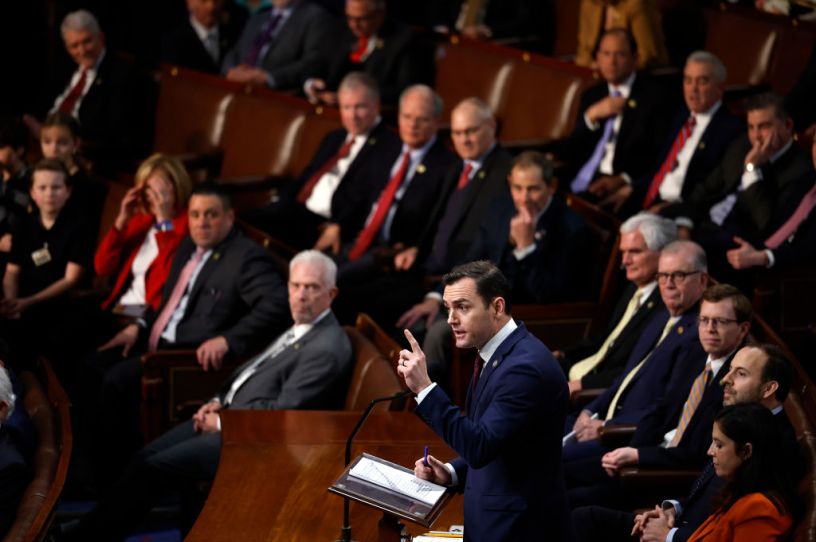 Rep.-elect Mike Gallagher (R-WI) delivers remarks in the House Chamber during the second day of elections for Speaker of the House at the U.S. Capitol Building on January 04, 2023 in Washington, D.C.(Photo by Chip Somodevilla/Getty Images)
As America's foremost ally in the Middle East responds to a brutal terrorist attack, the Republican-controlled House has been mired in a petty and self-indulgent impasse of its own making. Days before Hamas' onslaught against Israel, eight Republicans—led by the ever-steady hand of Rep. Matt Gaetz—decided to team up with Democrats and depose House Speaker Kevin McCarthy, without any clear successor waiting in the wings. 
Weeks later, the various factions of the GOP conference have proven incapable of uniting around a replacement. The candidacy of Majority Leader Steve Scalise lasted less than 24 hours. As of Wednesday evening, Rep. Jim Jordan's effort to secure the speaker's gavel had failed twice, halted by different combinations of moderates, Scalise allies, and members of the Appropriations Committee.
Increasingly desperate to break the gridlock, GOP lawmakers are discussing two potential options. They could empower the speaker pro tempore, currently Rep. Patrick McHenry of North Carolina, and give the House the ability to resume functioning in a limited fashion. They could also partner with their more moderate colleagues across the aisle to elect a speaker with bipartisan support. Despite relying on Democratic votes, the second path serves Republicans' partisan interests—and Rep. Mike Gallagher of Wisconsin is best positioned to take up this mantle.
The series of own-goals by Republicans in recent weeks would almost be funny if it weren't for their real-world consequences. Israel needs money and arms, but the House—which holds the power of the purse—is hard-pressed to provide the requisite aid without a speaker. The Ukrainian counteroffensive has also consumed incredible amounts of ammunition and needs further support that a speakerless House likely can't provide. The Biden administration has made clear Congress will have to take the lead on any additional border security efforts, and we are, of course, now less than a month away from the next government shutdown deadline. The House—and in turn Congress—is more or less paralyzed without a speaker. Electing one is critical to passing several urgent pieces of legislation.
You're out of free articles
Create an account to unlock 1 more articles