Kevin McCarthy in Leadership Limbo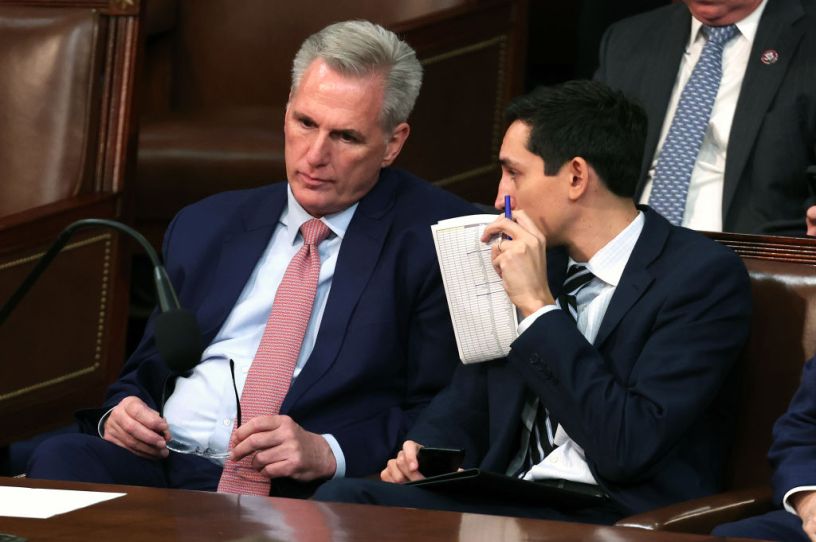 House Republican Leader Kevin McCarthy waits as the House of Representatives holds the election for speaker Tuesday. (Photo by Win McNamee/Getty Images)
The fate of House Republican Leader Kevin McCarthy—and the speakership itself—remained unclear Tuesday night after he failed to clinch the speaker's gavel following three consecutive votes on the House floor.
Twenty hardline Republicans—many of them members of the Freedom Caucus—rejected McCarthy's bid for speaker and instead unified behind GOP Rep. Jim Jordan, who is backing McCarthy and even made a floor speech to try to sway detractors after the first vote. The votes Tuesday marked the first time in a century that a speaker vote has gone to multiple ballots. 
The stunning degree of resistance from the House GOP's rightmost flank left McCarthy with just 202 votes in the third round—16 short of the 218 he'd need to secure the speaker's gavel. For the first two rounds of votes, McCarthy's opponents held steady at 19 before increasing to 20 in the third round.
With House Democrats united behind newly elected party leader Hakeem Jeffries and no single candidate securing a majority of votes, the speakership remained in limbo as members left the chamber Tuesday night. The House eventually adjourned until noon Wednesday without adopting a rules package or swearing in any members.