Kevin McCarthy Pushes Back on Latest Move to Oust Liz Cheney From House GOP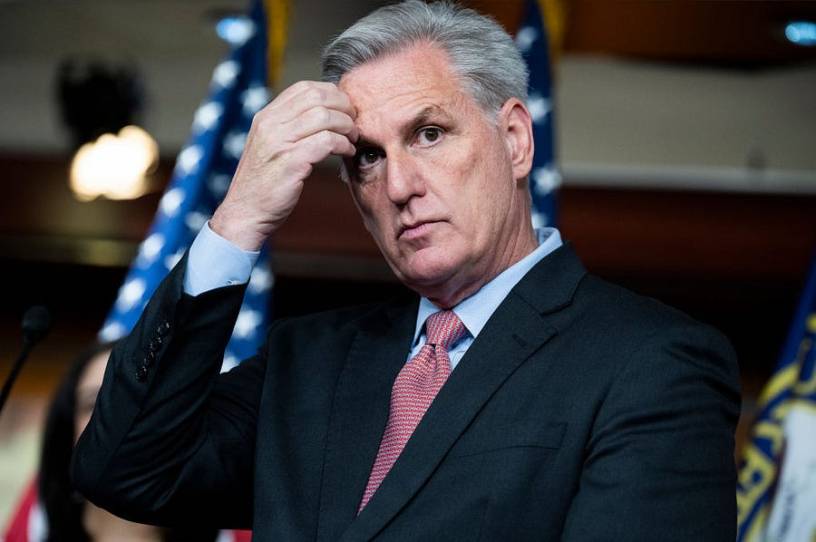 House Minority Leader Kevin McCarthy pushed back on House Freedom Caucus Chairman Scott Perry's latest effort to boot Republican Rep. Liz Cheney from the House GOP Caucus last week. McCarthy told some Republican members during a private lunch that doing so would hurt the party by cutting down Republican committee seats in the lower chamber, two House Republicans told The Dispatch.
McCarthy made the comments, which have not been previously reported, last Wednesday at the Capitol Hill Club hours after a separate closed-door House GOP conference meeting. Earlier that day, Perry discussed his prospective motion to remove Cheney—the co-chair of the January 6 Select Committee—from the GOP conference. Perry also told members during the conference meeting that McCarthy had asked him to put the motion on hold so the party could focus on the one-year anniversary of Biden's inauguration. CNN's Melanie Zanona first reported details of that meeting.
One Republican who attended the Capitol Hill Club lunch said that McCarthy "talked specifically about Scott Perry's initiative to remove two members, Liz Cheney and Adam [Kinzinger], from the Republican conference because of their role on the select committee." The member estimated that 50-60 Republicans attended the lunch, roughly half of whom were lawmakers.
Pursuing another effort to boot Cheney from the conference would come at a cost, McCarthy told members during the lunch. "You could make the argument to reduce it and actually in the short-term hurt the Republican margin in committees where most of the work gets done before a bill gets the floor," the House Republican member said in reference to McCarthy's comments, adding that the party's committee ratio has already shrunk after GOP Rep. Devin Nunes resigned January 1. "So [McCarthy] walked people through that and how he had then successfully tried to dissuade Perry from offering the somewhat of a surprise motion in the Republican conference last week to strip these members out of the Republican conference."
You're out of free articles
Create an account to unlock 1 more articles