McCarthy's Debt-Ceiling Plan Is Built on Unrealistic Spending Caps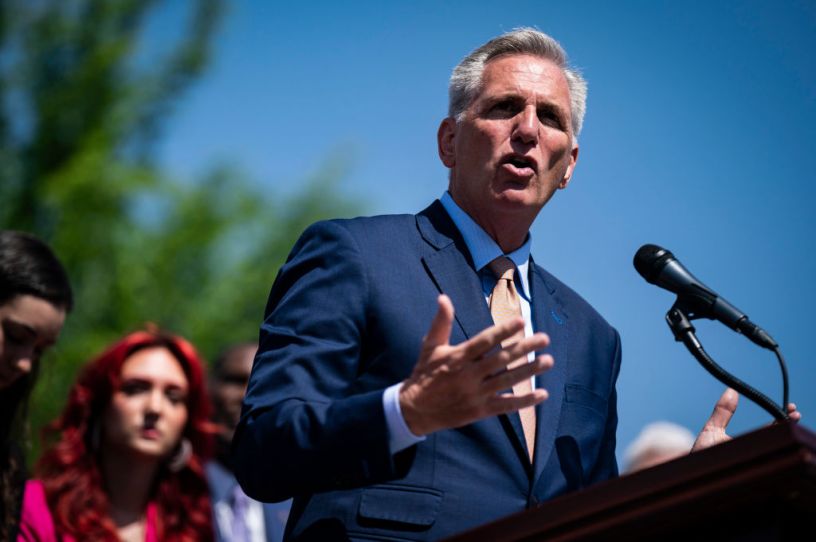 Speaker Kevin McCarthy speaks on Capitol Hill on Thursday, April 20, 2023. (Photo by Jabin Botsford/The Washington Post via Getty Images)
Speaker Kevin McCarthy helped himself considerably—and quieted more than a few of his critics—by muscling a debt ceiling plan through the House last week. But the good feelings may recede as the fine print gets more scrutiny. The proposed spending caps in the House-passed bill are too low to be taken seriously, and would be risky for the country if they were.
McCarthy's plan—the Limit, Save, Grow Act of 2023—pairs a $1.5 trillion increase in the limit on federal borrowing, or a suspension through March 2024 if new borrowing at that point is less than $1.5 trillion, with numerous GOP budget and policy priorities. Among other things, the bill would repeal many climate-related subsidies enacted in last year's Inflation Reduction Act. The Congressional Budget Office (CBO) estimates the full plan, including reduced interest payments on the debt, would lower federal borrowing over 10 years by $4.8 trillion (a Rules Committee modification produced modest changes to the original estimate).
While these savings are significant, they remain small relative to the size of the nation's budget problem. Even if the House bill were to become law—a highly unlikely scenario—the government would still borrow $15.5 trillion over the next decade and run an annual deficit in 2033 of nearly $2.2 trillion, or 5.6 percent of GDP. For context, the average deficit from 1970 to 2008 was 2.4 percent of GDP.
Further, most House bill's savings are questionable, as they come from imposing extremely constraining caps on discretionary accounts. Of the $4.8 trillion the CBO estimated in deficit reduction for the overall plan, $3.2 trillion comes from lower spending on annually approved appropriations.