Republicans Notch Initial Debt-Ceiling Victory
Happy Thursday! Don McLean transcends.
Quick Hits: Today's Top Stories
Republicans United on Debt Limit—For Now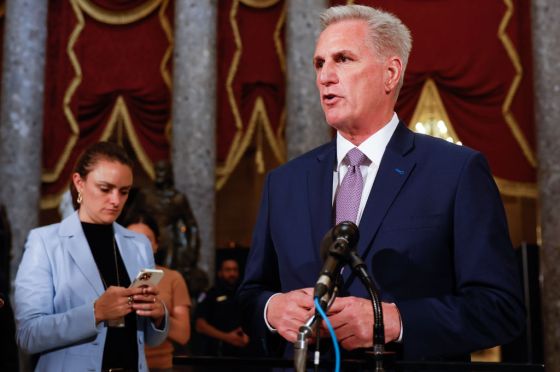 Late-night negotiations stretching into the early morning. A frenzy over which Republican lawmakers will support Kevin McCarthy and which ones will defect. Democrats standing by and watching the infighting with glee. No, you haven't been transported back in time to the January speakership fight. But McCarthy did face another test yesterday, and he passed it: After months of horse-trading and days where consensus seemed impossible, the unruly Republican conference rallied around a bill to raise the debt ceiling. It's dead on arrival in the Senate, but McCarthy & Co. hope it will force the White House to the negotiating table.
When we wrote to you last week on the House GOP's efforts to pass a debt ceiling bill, it was far from certain whether McCarthy would be able to get the legislation through the House with the razor-thin Republican majority. Three Republican factions potentially stood in the way: deficit hawks who typically balk at any debt-limit increase, members concerned that proposed cuts to spending and incentives would affect their constituents, and the performative nihilists who care more about attention than governing.
But in the wee hours of Wednesday morning, Republican leadership hammered out changes to the bill—something McCarthy wasn't willing to do just two days ago—that satisfied (barely) enough Republicans: expediting the implementation of work requirements for Americans receiving food stamps and Medicaid, and preserving certain biofuel and renewable energy incentives. The former was designed to please the deficit hawks, while the latter sought to allay the concerns of a group of eight Midwestern members, including Iowa's entire congressional delegation. (Iowa is the country's leading producer of biodiesel.)
Get every newsletter and all of The Dispatch. Support quality, fact-based journalism.
Start Your Free Trial
ALREADY A PAID SUBSCRIBER? SIGN IN