Michigan Republicans Fear a Split Ahead of 2024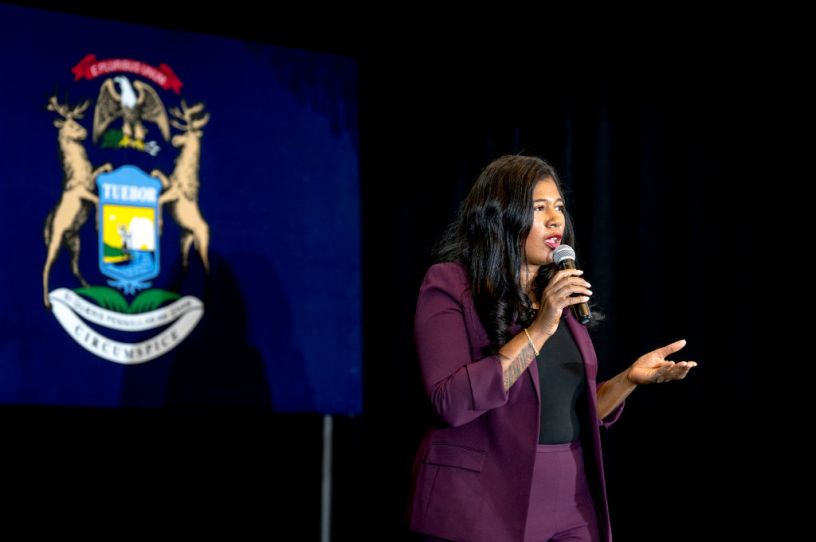 Kristina Karamo speaks in Dearborn, Michigan, on October 30, 2022. (Photo by Nic Antaya for The Washington Post via Getty Images)
Intense Republican infighting in Michigan is boosting Democrats in the critical 2024 battleground and hobbling GOP plans for a comeback after stinging defeats in three consecutive elections.
Michigan's sprawling Republican establishment of operatives, donors, elected officials, and allied industry groups is breaking ranks with the state party, declaring no-confidence in newly elected chairwoman Kristina Karamo—an ally of former President Donald Trump. They are instead directing money, manpower, and other crucial resources to a collection of conservative outside groups. Discussions are underway in Republican circles to launch additional super PACs and 501(c)4 nonprofit organizations.
It's all part of a broad strategy to sidestep the Michigan GOP and shun Karamo. In the 2022 midterm elections, the polarizing populist chairwoman lost her bid to oust Secretary of State Jocelyn Benson, Michigan's chief elections administrator, by a yawning 14 percentage points. Yet nearly four months later, Karamo is still refusing to concede to the incumbent Democrat.
"There's no way in hell you can look at the state party apparatus as a stock and say: 'Gee, I want to invest more in that stock.' Just the opposite," Jimmy Greene, president and CEO of Associated Builders and Contractors of Michigan, told The Dispatch. "The party is a grievance driven party and not one to be taken seriously."