Michigan's Race to 'Normal'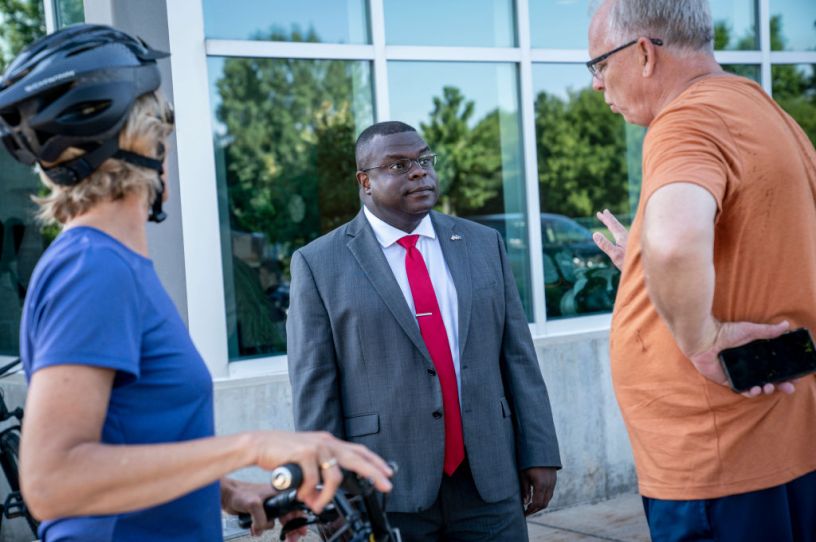 John Gibbs, center, talks to supporters. (Photo by Sarah Rice for The Washington Post via Getty Images)
The Democratic Congressional Campaign Committee will find out in three weeks if its gambit to boost election-denying Republicans in primaries this year will pay off, and one revealing case will be Michigan's 3rd District.
In July, the DCCC dropped $435,000 in advertisements subtly boosting John Gibbs, the Trump-endorsed challenger to incumbent freshman Rep. Peter Meijer—who voted to impeach former President Donald Trump after the events of January 6.
Gibbs defeated Meijer by 3.6 points, which led political analysts at the Cook Political Report and Sabato's Crystal Ball to change the district's rating from tossup to lean Democratic.
Gibbs—who says the 2020 election was stolen from Donald Trump and questions whether November's election will be fair—has for months framed the race as "not Democrat versus Republican so much as crazy versus normal." His Democratic opponent, Hillary Scholten, is hoping she can be the one to come across as normal—and she's disavowed the DCCC helping candidates Democrats say are a threat to the country.
You're out of free articles
Create an account to unlock 1 more articles