No, Trump's Interview With Tucker Carlson Was Not the Most-Watched Video 'In the History of the World'
In a video posted on Truth Social on Wednesday, former President Donald Trump claimed that his recent interview with Tucker Carlson was "the single most watched video and interview in the history of the world." The video has been liked more than 18,000 times and "retruthed," the platform's version of sharing, almost 4,500 times as of Friday morning.
Trump's interview with Carlson, which was hosted on X, the platform formerly known as Twitter, went live at the same time as the first Republican primary debate in Milwaukee last week. Carlson, who was fired in April from his prime-time Fox News show, now hosts Tucker on X, a long-form interview show that broadcasts on the X platform.
At the time of publication, X's metrics showed the Tucker-Trump interview having 263 million views, dwarfing Fox News' reported 12.8 million viewers for the Republican primary debate. "262 million views and counting, more than doubling the longtime reigning champ, the Oprah Winfrey interview of Michael Jackson," Trump said. "So, I want to congratulate Tucker, and I want to thank everyone."
However, X's current definition of "views"' is different from that of many other social media platforms and inflates the true number of users who watched the video.
Facebook, for example, reportedly calculates a view only when a video is played for more than three seconds, including autoplay. YouTube adopts a stricter definition, requiring a video to be actively clicked on by the user and watched for at least 30 seconds—or the entire length of the video in cases where the video is less than 30 seconds long—to count as a view.
In late 2022, X rolled out a new "views" metric for all tweets, which counts as a view any time a tweet appears on a user's screen, regardless of whether they have interacted with it. The X website states that "Anyone who is logged into Twitter who views a Tweet counts as a view, regardless of where they see the Tweet (e.g. Home, Search, Profiles, etc.) or whether or not they follow the author."
Because any user who scrolls past a video, even if they do not watch it, counts as a view on X, the 263 million view count referenced by Trump greatly inflates the actual number of users who watched the video.
Before the rollout of its new metric late last year, the X platform previously displayed a different view metric that functions similarly to that of Facebook, recording a view anytime a user plays a video for more than two seconds with at least 50 percent of the video player in view. Despite this metric no longer being viewable on the X website and mobile apps, by accessing a previous version of the Twitter application programming interface (API) from before the rollout of its new viewership metrics, The Dispatch was able to determine more accurate viewership numbers for the Trump interview using X's previous metrics. This number stood at 21.8 million views at the time of publication.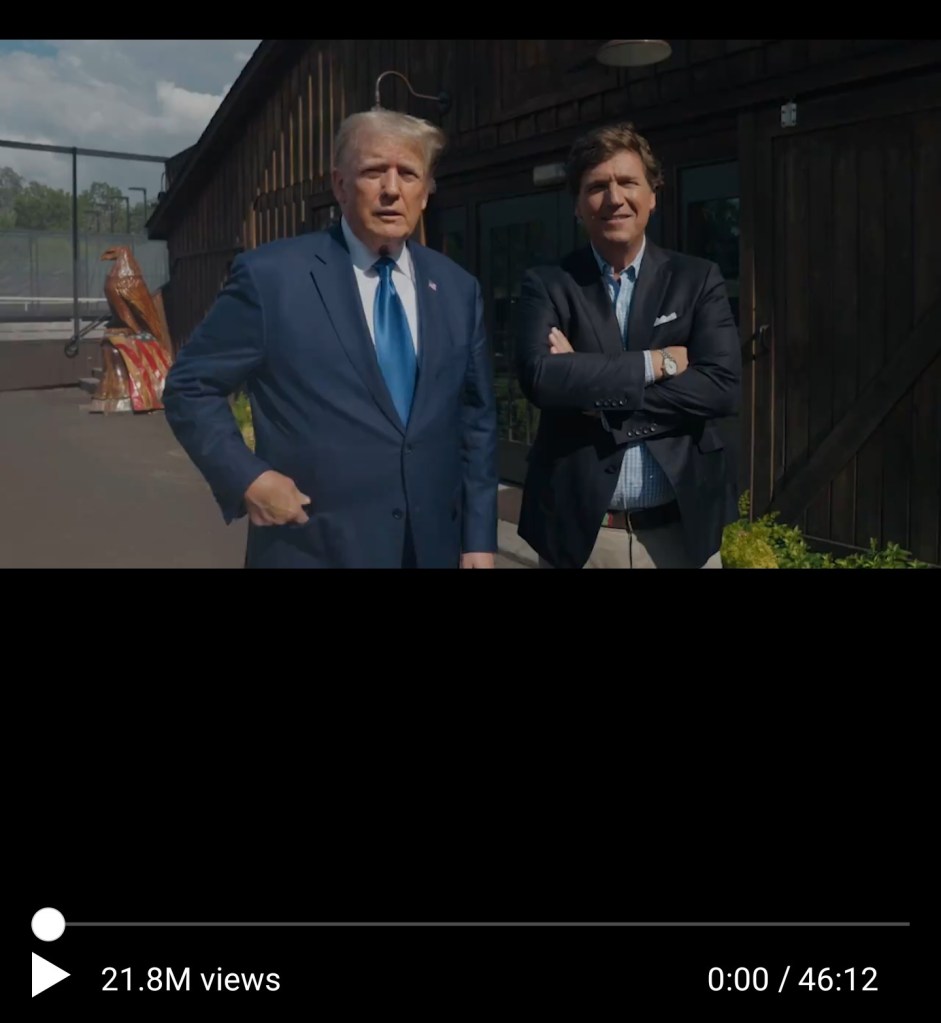 Though Tucker's Trump interview's 21.8 million views still surpases the Republican primary debate's audience numbers, it falls well short of the approximately 90 million viewers who watched on as Oprah Winfrey interviewed Michael Jackson at Neverland Valley Ranch in 1993.