One President at a Time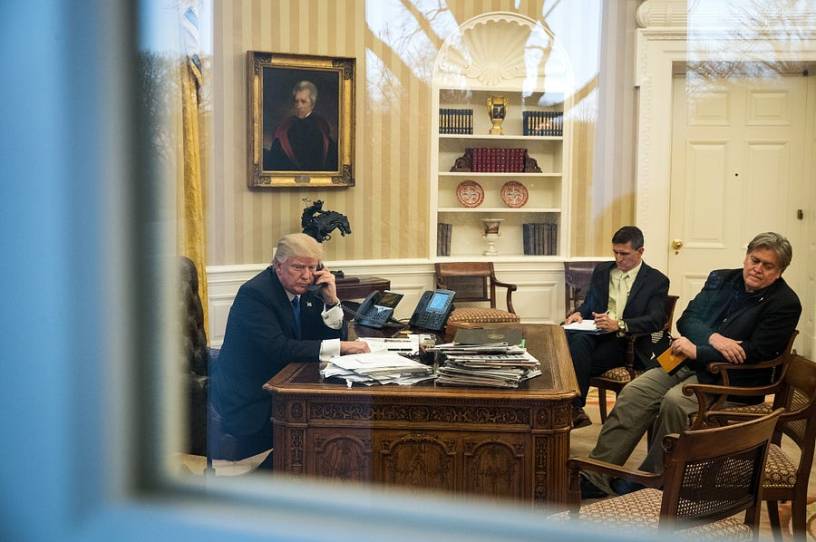 There is any number of noteworthy findings in the Senate Select Committee on Intelligence's most recent report on Russian campaign interference—with most already having been written about. One finding likely to go largely ignored, however, is the number of violations of the 1799 Logan Act by the Trump transition team. 
The Logan Act prohibits private citizens from engaging in "any correspondence or intercourse with any foreign government or any officer or agent thereof, in relation to any disputes or controversies with the United States." According to the Senate report, incoming National Security Adviser Gen. Michael Flynn made calls and had discussions with the Russian ambassador to the U.S. in an attempt to dissuade Russia from supporting a U.N. Security Council Resolution critical of Israeli construction of settlements in the West Bank and to temper Moscow's response to the Obama administration sanctions that were laid on Russia as a result of its interference in the 2016 presidential election. But, apparently, Flynn was not the only member of the transition team involved in these activities. According to the committee report, Jared Kushner, the president's son-in-law, admitted to assigning various team members "to work the phones and try and convince other countries to oppose the [Security Council] resolution." "I remember," Kusher says, "I was talking with Flynn. I was talking with Nikki Haley. I was talking to Rex Tillerson. I was talking to Reince Priebus. I was talking to Steve Bannon. And we were all making phone calls trying to do everything we could." And, indeed, even President-elect Trump made a call to Egyptian President al-Sisi to try and stop the Egyptians from sponsoring the resolution.
In spite of the clear language of the law, there has been no effort on the part of the Department of Justice to prosecute anyone on the Trump transition team for violating the Logan Act. It did of course come up in the case of Gen. Flynn. Before the FBI interview with now National Security Adviser Flynn in late January about his calls with the Russian ambassador in late December 2016, the head of FBI counterintelligence asked those involved in coordinating the interview whether the point of the interview was to "get him to admit to breaking the Logan Act." And, even before that, according to a note taken of the January 5, 2017, Oval Office meeting between principals FBI Director Comey, Acting Attorney General Sally Yates, and President Obama, Vice President Biden brought up the issue of the Logan Act in relation to Flynn's calls. 
Instead, Flynn was indicted and pleaded guilty to lying to the FBI agents in his interview about the content of the calls, not the fact of the calls. And the current debate is centered instead on whether the Justice Department can drop the case against Flynn this late in the proceedings. The matter is now under review by the D.C. Circuit Court of Appeals. 
Keep reading with a free account
Create a free Dispatch account to keep reading
Get Started
ALREADY HAVE AN ACCOUNT? SIGN IN