Palestinian Political Leader Claims Hamas Has Attacked 'Mainly' Military Establishments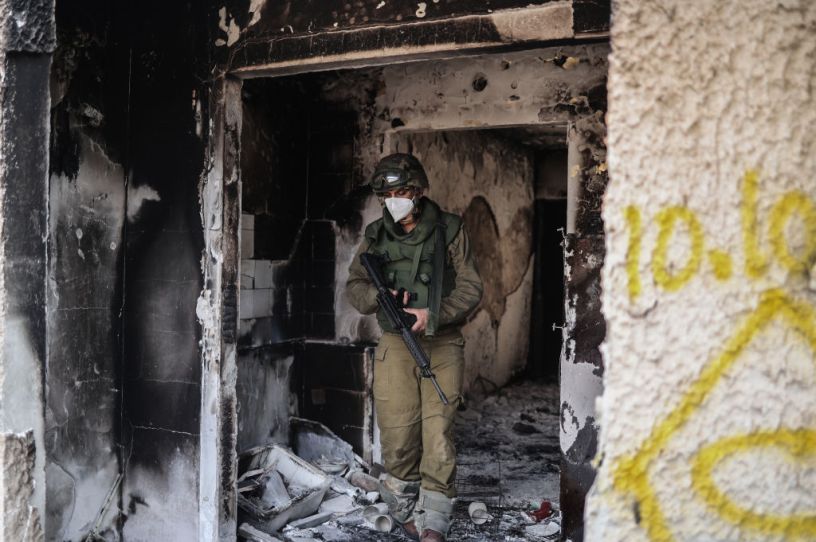 An Israeli soldier inspects a destroyed house as fighting between Israeli troops and Islamist Hamas militants continues.(Photo by Ilia Yefimovich/picture alliance/Getty Images)
During a Sunday interview with CNN host Fareed Zakaria on Fareed Zakaria GPS, Mustafa Barghouti, general secretary of the Palestinian National Initiative (PNI), claimed that ongoing Hamas attacks against Israel have not been targeted at civilians. The PNI, a Palestinian political party formed in 2002, claims to be a democratic third force that is opposed to both Hamas in Gaza and Fatah in the West Bank. "What Hamas is doing is they are targeting Israeli civilians, women, children, grandmothers," Zakaria said to Barghouti. "No, they are not," Barghouti replied. "I think Hamas mainly attacked military establishments, military installations, and most of the people there, they have arrested and taken as war prisoners are military people," he continued.
According to the Israeli government, as of October 9 more than 900 Israelis had been killed and at least 2,400 injured in the attacks. Additionally, Hamas has taken more than 130 hostages in the country, including women, children, babies, the elderly, and the disabled. While many of those killed have been members of the Israeli military and police, the claim that Hamas has not targeted civilians in its attacks is false.
At the Tribe of Nova music festival alone—which took place just three miles west of the Israel-Gaza border—more than 260 bodies have been discovered by ZAKA, a volunteer organization that assists in recovering human remains following attacks and natural disasters. Israeli authorities believe that number could still rise as the festival grounds are searched, and some bodies were likely removed and taken back to Gaza. Hamas terrorists arrived at the grounds in the early hours of Saturday morning and fired upon festival attendees, killing those fleeing and executing others at close range. According to reports from survivors, it took the Israeli Defense Force (IDF) more than six hours to reach the site, meaning most—if not all—of the casualties recorded at the site were civilian.
A large number of villages and kibbutzim were also attacked directly by Hamas. On Monday night, Zaka announced that it had found more than 100 bodies at Kibbutz Be'eri near the Gaza border. In video surveillance footage released on Telegram by IDF responders, two Hamas militants can be seen ambushing a civilian vehicle as it opens the front gate, killing the driver before infiltrating the kibbutz.
You're out of free articles
Create an account to unlock 1 more articles