Putin's Descent Into Stalinism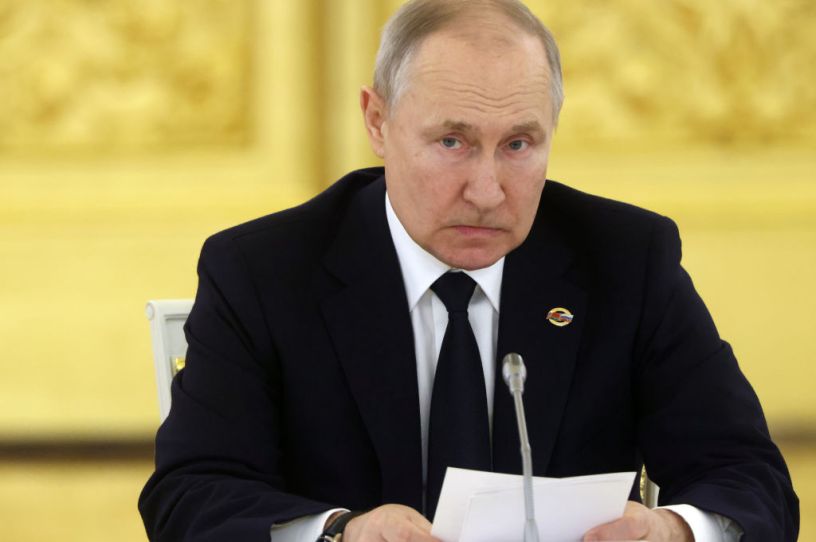 Russian President Vladimir Putin gives a speech on April 6, 2023, in Moscow, Russia. (Photo by Contributor/Getty Images)
Late last month, a Russian man who's the single father of a 13-year-old girl was sentenced to two years in prison for "discrediting the Russian armed forces." Aleksei Moskalyov's conviction was for social media posts he had written, but his ordeal had begun nearly a year before as the result of drawing his daughter made. In early March, the daughter, Masha, had been taken by police to an orphanage and banned from communicating with her father. (Masha has recently been handed over to her mother, from whom she's been estranged for seven years.)
Masha Moskalyova's crime? Drawing a picture in sixth-grade art class of a mother and a child next to a Ukrainian flag. In the drawing Masha wrote, "I AM AGAINST THE WAR!" She also drew "Glory to Ukraine" on the Ukrainian flag with missiles flying from the Russian tricolor side with "No to the War" penciled on the flag.
This is not the first time Masha has been detained. Last year she was taken from school to a local office of the Federal Security Service, and this past January she spent almost two weeks in an orphanage.
Masha is not alone. The police have also harassed the family of a 12-year-old named Kirill, a sixth-grader who asked in class, "Why did Putin begin the "special operation" in Ukraine?" and cried "Glory to Ukraine!" in a school hallway. Two days later the police came to Kirill's apartment. Home alone, the boy would not open the door. The police cut off electricity and left a note threatening to "deliver him by force" to the station.