RFK JR. Could Play Spoiler, but Not for Biden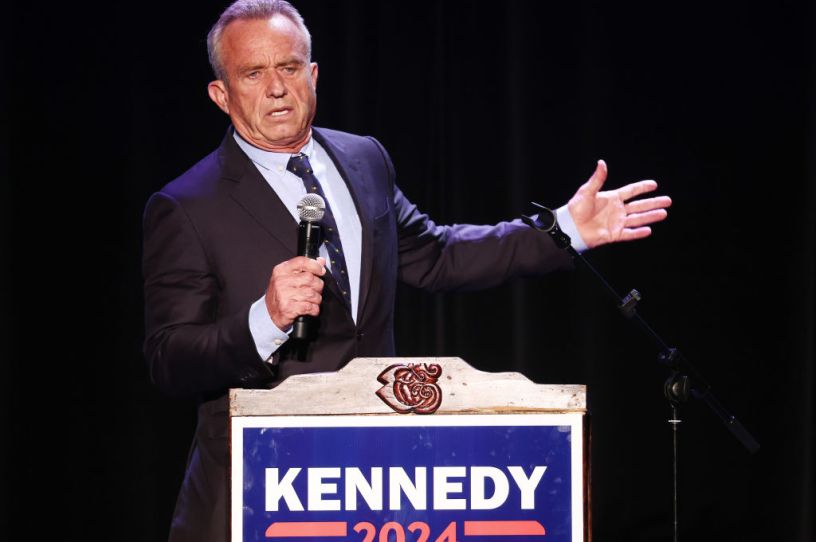 Robert F. Kennedy Jr. speaks at a Hispanic Heritage Month event at the Wilshire Ebell Theatre on September 15, 2023, in Los Angeles, California. (Photo by Mario Tama/Getty Images)
Robert F. Kennedy Jr. is expected to announce next week that he is leaving the Democratic Party and taking his presidential bid elsewhere. 
Where, exactly, remains unclear. But there are hints. As the folks at No Labels can attest, gaining ballot access for a new party is very hard. And at this late date, Kennedy would need help, which the struggling Libertarian Party could provide.
Kennedy met with the party's chairwoman over the summer, and his views on vaccines, foreign policy, and allegations of criminal conspiracies inside the federal government line up well with the party's current direction. And some of Kennedy's funders occupy that fuzzy space between MAGA and the new-look Libertarian Party.
Kennedy's longtime work in favor of environmental regulations—work that endeared him to many on the progressive left—or his comments about Jews and COVID might have posed a serious barrier to his nomination by the old, Randian Libertarian Party. But they don't seem like much of a stumbling block these days. "I'd vote for him in a heartbeat," the party's 2012 and 2016 nominee, former New Mexico Gov. Gary Johnson, told the New York Times.
You're out of free articles
Create an account to unlock 1 more articles