Ron DeSantis Stays Quiet on Abortion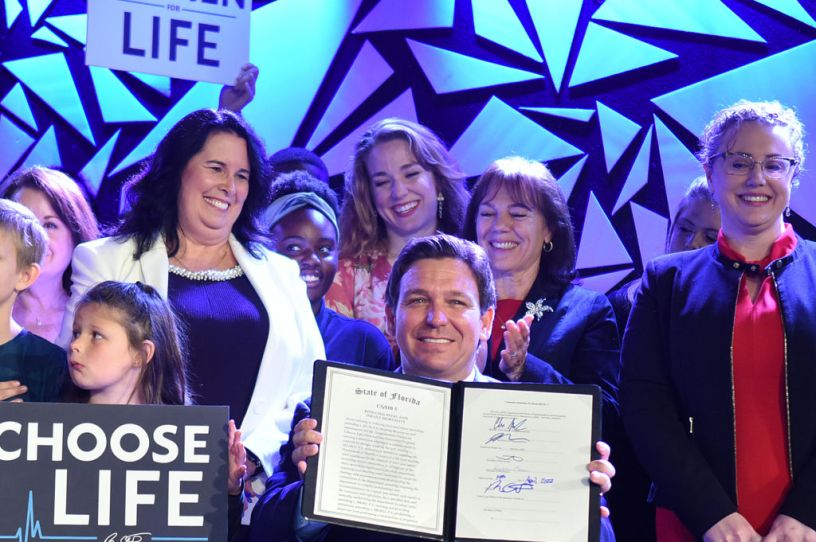 Gov. Ron DeSantis signing Florida's 15-week abortion in 2022. (Photo by Paul Hennessy/SOPA Images/LightRocket via Getty Images)
Dozens of pro-life advocates surrounded Florida Gov. Ron DeSantis at a Spanish-language church outside Orlando last year as he signed a law banning abortions after the 15th week of pregnancy. News cameras captured the scene—complete with a "Protect Life" banner in the background—ensuring the governor received prominent coverage of his event for the evening broadcasts.
"This will represent the most significant protections for life that have been enacted in this state in a generation," DeSantis said as the crowd behind him, nearly all women, applauded.
But 12 months later, the signing ceremony for Florida's new, more restrictive six-week abortion ban last week was shorter and quieter. DeSantis signed the bill on April 13 in his Tallahassee office. He was flanked by many of the same pro-life activists from a year earlier, but no TV cameras captured the moment and his office waited hours to announce the signing—at 11 p.m.
The contrast illustrates how even on the eve of launching his presidential campaign, DeSantis seems unsure how to navigate the national debate on abortion and whether he would push for a federal abortion policy in the White House. Pro-life activists are also unclear about where DeSantis would fall on the question of the federal government's role in setting national abortion policy. Those who spoke to The Dispatch remain optimistic, but caution that DeSantis is still not a presidential candidate and are reserving judgment until he begins the campaign.
Get every newsletter and all of The Dispatch. Support quality, fact-based journalism.
Get Started
ALREADY HAVE AN ACCOUNT? SIGN IN