Russia After Rebellion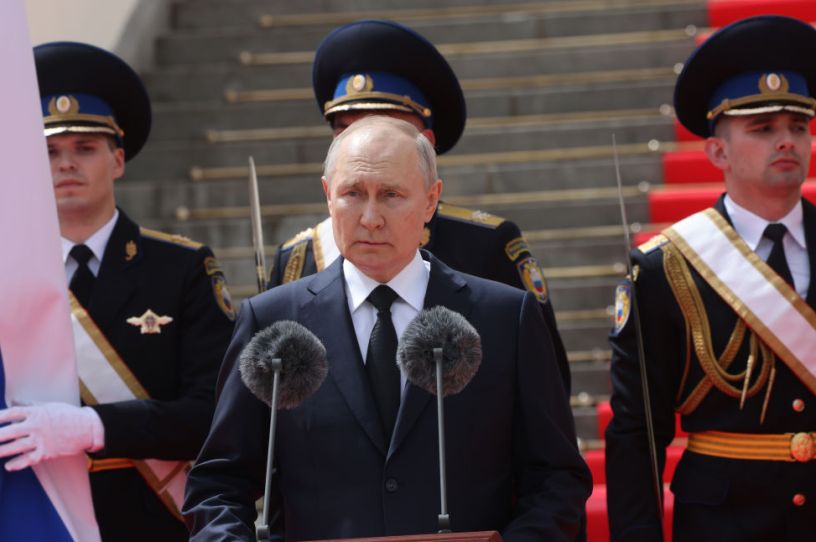 Russian President Vladimir Putin on June 27, 2023 in Moscow, Russia. (Photo by Contributor/Getty Images)
The spectacle of a brief, bizarre mutiny in Russia is over. Yet its ramifications for Vladimir Putin's reign remain unclear, and the U.S. should be doing everything possible to exploit the Russian military's disorder to benefit Ukraine.
Over the weekend, Yevgeny Prigozhin, the chief of the mercenary Wagner Group, led thousands of his troops as they took control of a strategic Russian city and came within 120 miles of Moscow. He called off the rebellion after brokering a deal through Belarussian strongman Alexander Lukashenko. But Prigozhin's statements undermining the Russian military leadership in general—and Defense Minister Sergei Shoigu and Chief of the General Staff Valery Gerasimov in particular—remain for all to see.
"The Armed Forces of Ukraine were not going to attack Russia with the NATO bloc. The Russian Defense Ministry is deceiving the public and the president," Prigozhin said, undermining the official basis for Putin's war ahead of the rebellion. He also warned of punishment for those responsible for the deaths of tens of thousands of Russian men in Ukraine. While much remains unknown, that shouldn't stop the U.S. and its allies from amplifying Prigozhin's statements so that they reverberate in every Russian household.
The Wagner rebellion highlights how Putin has been grossly flippant with the lives of Russians—tens of thousands of Russians have died on the battlefield in the past 16 months—and the Russian people have noticed. When Wagner rolled through Russian streets, the people were supportive. Clearly there is a sizable chunk of the Russian population that understands the war isn't going Russia's way and sympathizes with Prigozhin's criticism of the military brass.