Taiwan Needs Our Help Now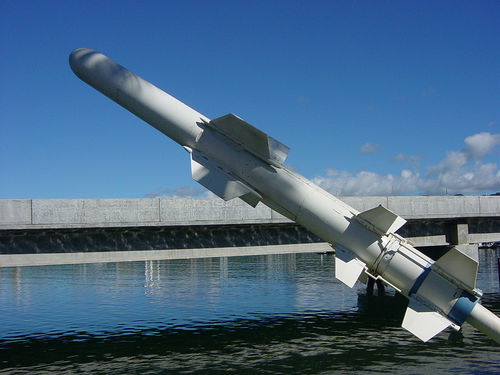 A Harpoon missile. (Photograph from Wikimedia Commons.)
The Department of Defense announced on April 7 that the Navy had awarded a procurement contract for 400 Harpoon anti-ship cruise missiles for Taiwan. On its face, the announcement is certainly welcome news. The missiles will accompany the new Harpoon Coastal Defense System (HCDS), which can play a potentially pivotal role in helping Taiwan deter aggression from Beijing, namely an amphibious assault or maritime blockade.
What the announcement actually reveals, though, is that the U.S. foreign military sales program is far too slow and in dire need of reform.
The State Department notified Congress of its decision to approve a possible foreign military sale (FMS) to Taiwan on October 26, 2020. That notification included 400 RGM-84L-4 Harpoon Block II Surface Launched Missiles, 100 launcher transporter units, 25 radar trucks, and associated support equipment and services. While the Navy awarded the contract for the 100 launchers and 25 radar units in March 2022, the contract for the accompanying missiles remained elusive—until this month.
The contract award for the missiles came almost two-and-a-half years after the administration notified Congress of the possible sale. That's almost as long as it took the United States to prepare and launch the D-Day landings after entering World War II. In other words, completing the paperwork (developing and finalizing a contract) so the manufacturer could begin to bend metal and build the missiles for Taiwan took the U.S. government almost as long (not counting modest pre-war preparations) as it took to prepare for one of the largest amphibious invasions in human history.