The 'Butcher of Syria' Now Leads Russia's Troops in Ukraine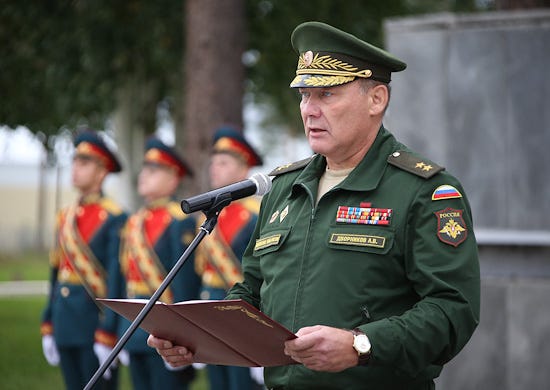 There is apparently a new commander for Russia's war in Ukraine: Aleksandr Vladimirovich Dvornikov. He is a relatively well-known Russian general who has commanded troops in Chechnya. He is best known for having overall command of Russian troops in Syria during the early years of Russia's intervention there. Sources for the Guardian describe Dvornikov as "old school" and a "blood and soil nationalist" who has few qualms about civilian deaths. In fact, he's been labeled the "Butcher of Syria." He is on sanctions lists because of his command there and some of his activities in Ukraine. Retired U.S. Lt. General Mark Hertling said that the Kremlin would press Dvornikov to achieve a victory in Ukraine by May 9, "Victory Day." This is the celebration of Nazi Germany's defeat in World War II and so has a massive significance in Russia, especially while Russia is in the process of "denazifying" Ukraine, as Putin claims. On the other hand, retired U.S. Adm. James Stavridis told NBC: "The appointment of this new general indicates Vladimir Putin's intent to continue this conflict for months, if not years."
Without some kind of inside information, it is probably not wise to speculate too much on what Dvornikov's special orders are or how he will change the way Russia is waging its war on Ukraine. According to some reports, up until this point there has been no overall Russian military commander for their Ukraine invasion! This is yet another piece of evidence of Russia's poor planning for war and expectation that Ukraine would collapse quickly. (Why would you need an overall commander just to collect surrenders?) So, at least, a unified command in Ukraine may improve Russia's ability to wage war there.
Dvornikov is probably a very competent and creative general, and he may not do anything predictable or predicated on his previous strategies. As the Institute for the Study of War put it in one of its recent bulletins: "General Alexander Dvornikov is the natural choice to take overall command of Russian operations in Ukraine. There is no reason to suppose Dvornikov was selected for any particular skills or experience, nor is there reason to think the conduct of the Russian war effort will materially change more than it was already changing due to the Russian abandonment of northeastern Ukraine and focus on the east." Also, talk about how his selection as commander presages "more brutality" does not make that much sense as Russian troops and leaders already appeared set on getting maximally brutal with Ukraine. 
This is not to dismiss any speculation or informed opining about Dvornikov. If nothing else, we might get some insight into how Putin views the war based on who he chose as a commander, and Dvornikov does not seem to be the kind of person one makes a commander if one is looking for a rapid negotiated peace. Dvornikov may have given us some direct insight into his thinking when he penned a 2018 article for the Voenno-Promyshlennyi Kurier, which translates to the Military-Industrial Courier, a weekly magazine reporting on Russian military affairs and related topics. Dvornikov wrote (or had ghostwritten) the article titled "The Staff for New Wars" when he was coming off of his successful command of Putin's Syria campaign.