The Days After Dobbs for Crisis Pregnancy Centers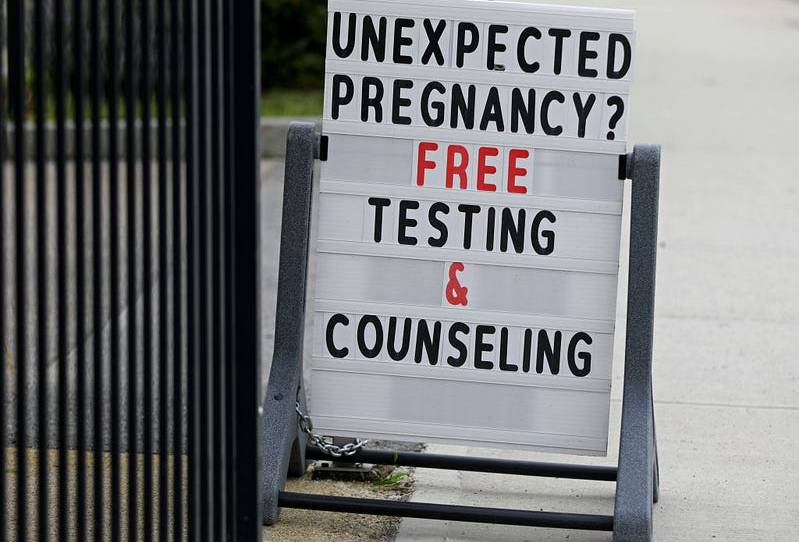 Ashland Pregnancy Care Center in rural northeastern Ohio, is outgrowing its current building. The reception room features stuffed blue chairs, sprightly artificial yellow flowers, and a hospitality section with a Keurig coffee dispenser and water bottles. A large mounted television provides information about labor and delivery classes and other announcements. The front door is locked—a nod to increasing security concerns such centers are facing.
"We are bursting at the seams," Chris Coffy, a registered nurse and clinic manager at the center, told The Dispatch. She performs ultrasounds at the center in a small room that features a hospital bed and other medical equipment. Other nurses teach labor and delivery classes for expectant mothers.
Down a few blocks, the center also has a boutique shop where parents can get supplies for themselves and their children—everything from cribs and car seats to onesies and breast pumps. Parents can participate in programs at the center to earn credits that they can redeem at the boutique.
Following the Supreme Court's Dobbs v. Jackson Women's Health Organization decision that overturned Roe v. Wade last month, pro-life activists and crisis pregnancy centers (CPCs) like Ashland face increased scrutiny. As regulation of abortion goes back to individual states to decide, creating a patchwork of abortion law across the U.S., some pro-choice elected officials are criticizing  CPCs as dishonest or scams. Pro-life activists and CPC administrators, meanwhile, say they have been preparing to care for expectant mothers in a post-Roe reality and can rise to meet the need. But pro-life people of various stripes say more can be done to help women facing unexpected pregnancies, with some looking at federal solutions.