The Forgotten Neighborhood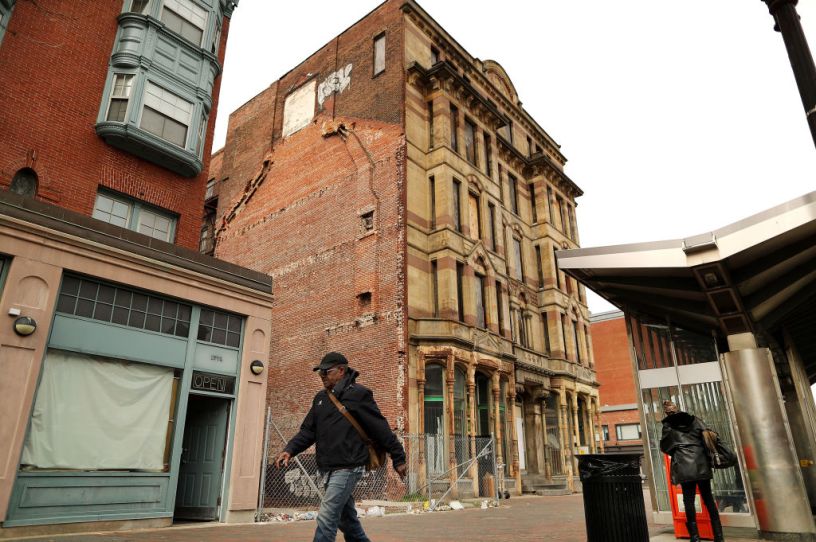 The Roxbury neighborhood in Boston. (Photo by John Tlumacki/Boston Globe /Getty Images.)
While rising inflation and economic uncertainty are worrying people across the country, the social crisis that engulfs large swaths of the American population continues unabated. Drug overdose deaths climbed 15 percent in 2021, topping 100,000 for the first time. After a modest decline during COVID, suicide deaths once again continued their two-decade long trajectory upward, with girls 10 to 14 and young men 15 to 24 seeing the biggest spikes. New data from the Census Bureau shows that people are spending more time than ever alone.
These problems are symptoms of America's social breakdown—the fraying of the relationships that used to bind us to each other. Strong social relationships foster greater individual well-being, as has been well documented in research on health and happiness. Those relationships do not exist autonomously but are embedded in social structures—marriages, families, networks, schools, and places of worship that exist in our local neighborhoods. When the social structures that support these relationships weaken, the talented and well-off can compensate and move on, but most of us are left more fragile by the strain.
Most American government bodies, philanthropists, and social entrepreneurs don't view social breakdown through this neighborhood lens. They focus on delivering specific services to meet specific needs—better housing, youth mentoring, or access to better health care—at the level of the individual, ignoring the social aspect of the problem. There is little attempt to bolster—or even engage with—the underlying social fabric in the particular places we live.
How might understanding place-based dynamics help us address social breakdown?