The Perilous Gap in Election Trust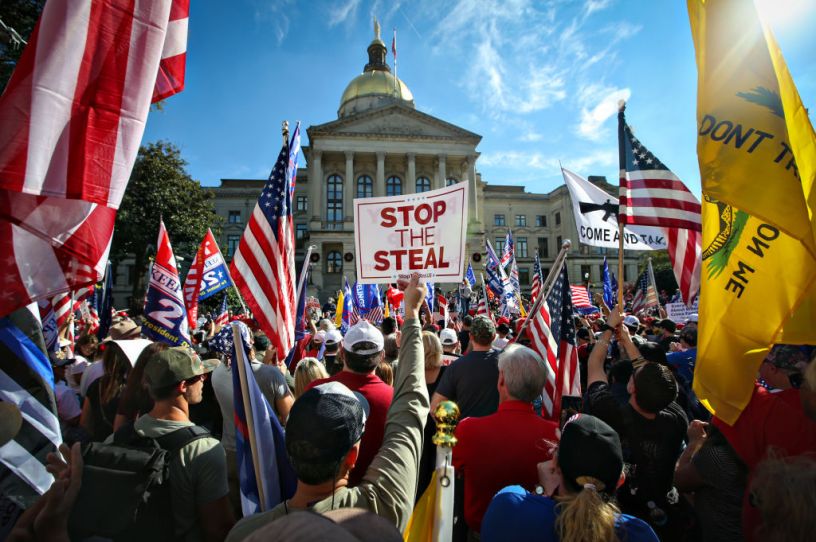 Hundreds of Trump supporters gather for the Stop the Steal Rally in Atlanta, GA on November 21, 2020. (Jason Armond / Los Angeles Times via Getty Images)
What will be the consequences of having so many Republicans distrust our system of elections? For that party and for the republic?
We get a peek at the effects for the GOP in a pair of new surveys from the bipartisan team that does polling for Fox News. In South Carolina's GOP primary, former President Donald Trump clocks in at 48 percent support, 11 points more than the next three candidates combined. It's a similar story for Iowa's caucuses, where Trump drew 46 percent support, more than double than either of his nearest competitors, Florida Gov. Ron DeSantis and South Carolina Sen. Tim Scott.
It might seem obvious that Trump is succeeding so wildly in spite of his obsession with election fraud, refusal to accept his defeat in 2020, and lack of remorse for trying to steal a second term. One clear lesson from last year's midterms was that candidates who embraced Trump's claims fared miserably. While it may be disconcerting that 30 percent of Americans told pollsters that President Biden won his office due to voter fraud, it is undoubtedly a loser of an issue with most voters.
The truth, though, is that Trump's current success is in considerable part because of his claims.