The Public Still Deserves Answers About Our COVID Response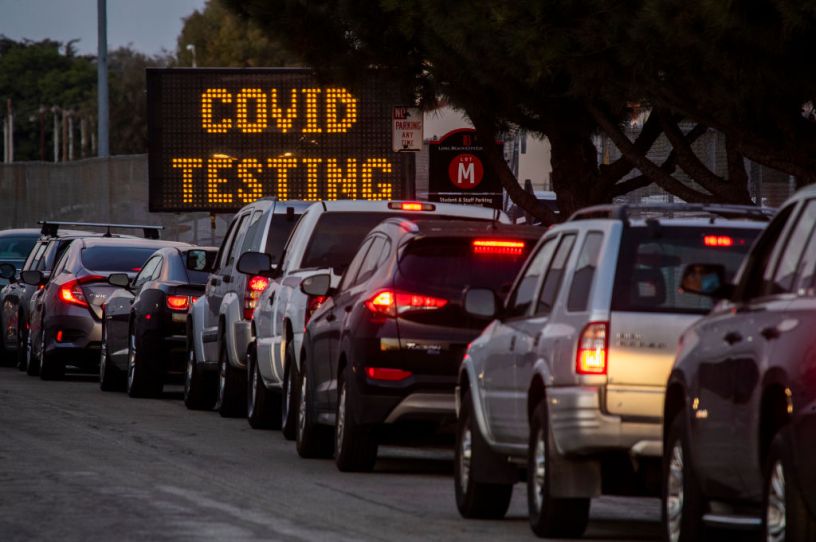 Drivers line up to take COVID-19 tests in Long Beach, California, on December 9, 2020. (Allen J. Schaben / Los Angeles Times/Getty Images)
When the Department of Energy released a report in late February concluding that the coronavirus most likely originated from a lab leak, pushback came from an unexpected source: the White House. There is "not a consensus" regarding the virus' origins, national security spokesman John Kirby said. Then the FBI announced that it concurred with the Department of Energy. The mixed messaging points to a bigger issue: the lack of clarity and rigor in our evaluation of how COVID-19 came to be and how our response fared.
Other countries, including Denmark, Finland, Norway, and Sweden, have all created institutional bodies to evaluate their handling of the crisis. We should do the same here and compare our handling of the pandemic to that of other nations by establishing a blue-ribbon national commission.
An independent COVID-19 commission would be free to ask politically pesky questions —ones that cannot be fairly adjudicated on the editorial pages or airwaves. For instance: Why did America have the fifth-highest excess mortality rate of the 38 countries that make up the Organization for Economic Cooperation and Development during the first 18 months of the pandemic? Excess mortality includes reported and unreported COVID deaths as well as deaths caused indirectly by the pandemic, for example, among people who failed to get adequate medical care for other conditions. And it's fair for the public to ask why the U.S. was a laggard on that indicator.
That question, and others, can only be asked by a national commission, a body that can remain relatively free of politics and posturing. Congressional committees, like the House Select Subcommittee on the Coronavirus Pandemic that recently held a public roundtable, will never have the credibility that a blue-ribbon commission will.