The U.S. Looks Poised to Leave Vulnerable Afghans Behind Again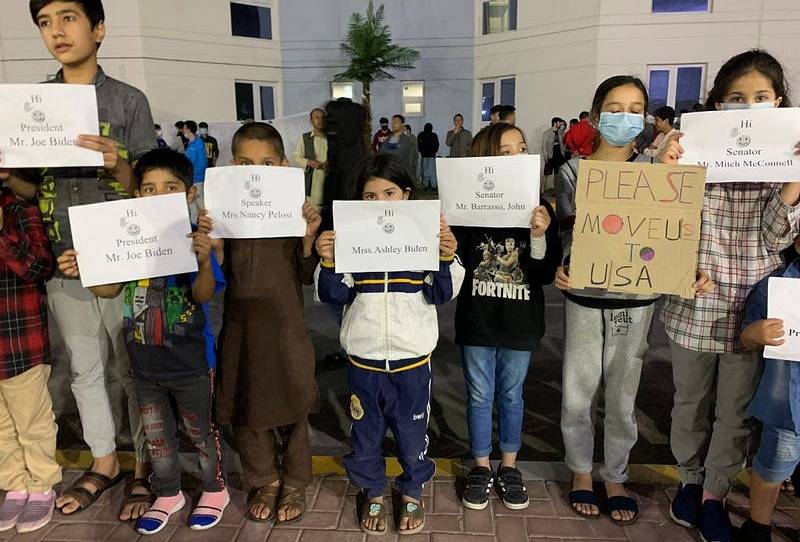 One year after the final U.S. military evacuation flight took off from Hamid Karzai International Airport in Kabul, thousands of Afghans remain in temporary housing at a facility in the Persian Gulf. But the State Department may be shutting down operations, leaving about 5,500 Afghans in a desperate limbo.
Abu Dhabi's Humanitarian City hastily opened to fleeing Afghans last fall and has been generously funded by the United Arab Emirates' ruling monarchs. The UAE signed an agreement to house those awaiting resettlement for up to 90 days. The implicit understanding: The United States would ensure forward processing of cases within that window.
Nearly a year later, the Emiratis continue to fund the housing, plus daily food rations and medicine for thousands in the sprawling, dorm-like compound located in an industrial area south of the capital city. Meanwhile, U.S. officials have refused to process the Afghans who remain there, a procedure that would allow them to enter the United States or be referred to other countries. And indications are that may never happen. The final flight authorized by the U.S. government from the facility departed August 17. The United States ended consular services, according to leaders of private NGOs and the U.S.-based evacuation groups that have continued to monitor the Afghans' cases.
You're out of free articles
Create an account to unlock 1 more articles