TikTok's D.C. Influence Campaign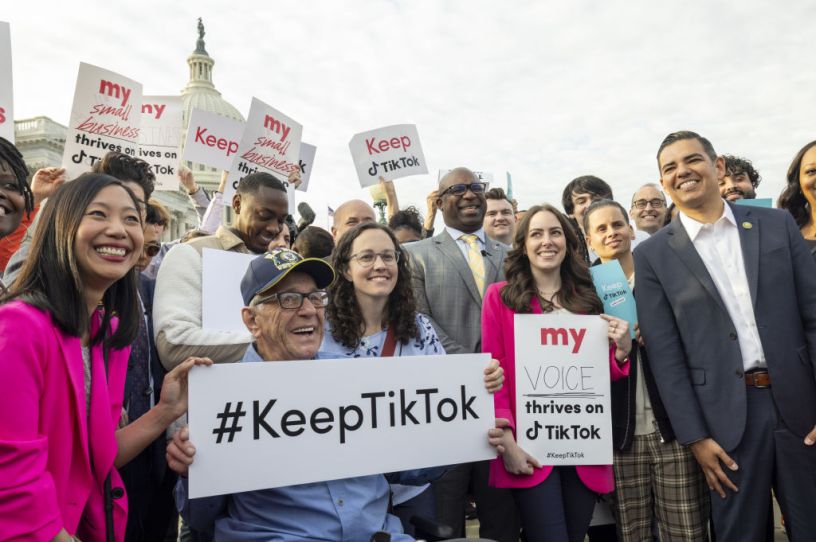 U.S. Rep. Jamaal Bowman participates as TikTok content creators gather outside the Capitol to voice their opposition to a potential ban on the app on March 22, 2023. (Photo by Nathan Posner/Anadolu Agency via Getty Images)
Popular social media app TikTok is facing more scrutiny from Congress and the White House over concerns it shares Americans' data with Chinese authorities. But parent company ByteDance is fighting back in its own way by employing former members of Congress and other lobbyists to influence current politicians.
ByteDance and TikTok hired 43 lobbyists in 2022, including former members of Congress from both parties, according to research group OpenSecrets. (For comparison, ByteDance made over $80 billion in revenue in 2022; Meta made $116.6 billion the same year and employed 75 lobbyists.) One lobbying firm in particular, Crossroads Strategies, employs former Republican Senate Majority Leader Trent Lott and retired Democratic Sen. John Breaux, both of whom were paid $440,000 for their work as lobbyists for ByteDance. ByteDance also paid former Democratic congressman Bart Gordon and former Republican congressman Jeff Denham $160,000 each. Both now work for law firm K&L Gates. 
But ByteDance's attempts to influence politicians extend beyond formally recognized lobbying.
In March TikTok reportedly hired SKDK, a consulting firm with connections to President Joe Biden, to provide communications support. (SKDK had turned down work with TikTok in the past, and in 2020 told employees to delete TikTok from their devices.) A founding partner of SKDK, Anita Dunn, worked on Biden's campaign in 2020 and is now a senior adviser at the White House. Top communications figures for the White House, Pentagon, and Department of the Interior also came to the Biden administration from SKDK. (SKDK did not respond to a request for comment.)