To Stand With the Palestinians, Support Israel Against Hamas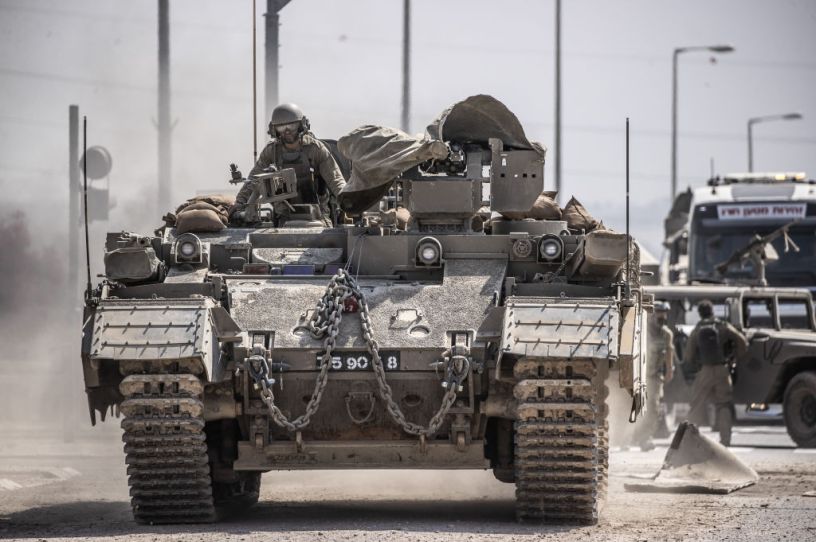 Israel continues to deploy soldiers, tanks, and armored vehicles near the Gaza border in Sderot, Israel on October 14, 2023. (Photo by Mostafa Alkharouf/Anadolu/Getty Images)
After its deadly terrorist attack on October 7, any doubts about Hamas' devotion to the destruction of Israel should be readily dismissed. But subsequent commentary on the Israel-Hamas war has often missed that Hamas is also the Palestinians' greatest enemy. The state of Palestine would likely have come into full existence long ago had Hamas (and Hezbollah) never existed. The best way to stand with the Palestinians is to support Israel's war to destroy Hamas.
No morally serious discussion of the Israel-Hamas war can start without the premise that Israel and Palestine both have a right to exist as separate, sovereign states of equal legitimacy. That was the premise of the United Nations' 1947 partition plan (which the Jewish Agency for Palestine—the predecessor to the Israeli government—accepted and the Arab states did not).
It is also the premise of the 1995 Oslo Accords, which among other things established the Palestinian National Authority as the sole legitimate representative of the Palestinian people. Through the Oslo accords, the Palestinian Authority recognized Israel's right to exist. The two parties disagreed about their borders and security arrangements, but they agreed that the basic principle of mutual recognition is the bedrock of any plausible, lasting peace.
Yet Hamas rejects both Israel's existence and the Palestinian Authority's legitimacy. It fought a war against the Palestinian Authority in 2007, seized military control over the Gaza Strip, and set up an authoritarian government there.
You're out of free articles
Create an account to unlock 1 more articles