Turning Villains Into Victims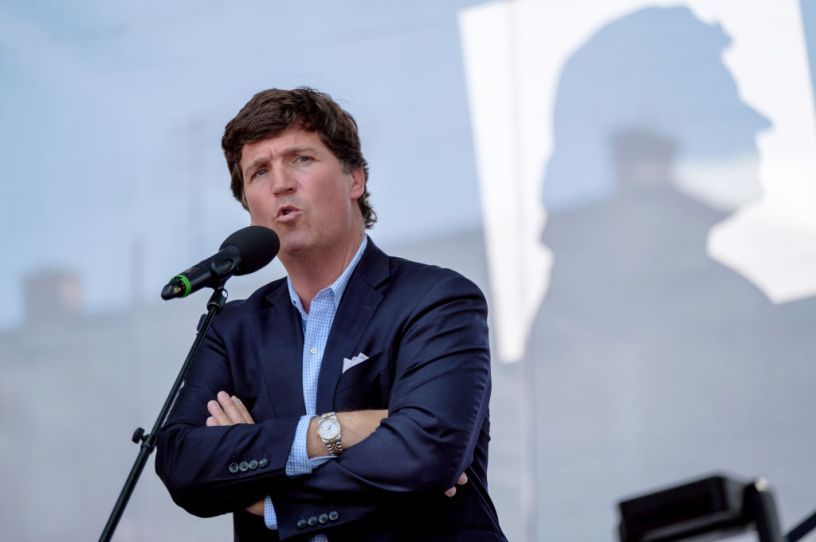 Tucker Carlson speaks during the Mathias Corvinus Collegium (MCC) Feszt on August 7, 2021 in Esztergom, Hungary. (Photo by Janos Kummer/Getty Images)
Tucker Carlson has left the building.
That in itself was unusual because Carlson hadn't been in the building most other days over the last couple years. He rarely went into the Washington or New York bureaus, preferring his own private studios in Maine and Florida—comfortable silos from which he broadcast his infectious bunker mentality.
But he wasn't physically in his bubble on Friday. He was in Washington to give the keynote address at the Heritage Foundation's 50th Anniversary Gala. Tucker was a fitting choice. His first job in Washington was at Heritage, back when both he, and it, were stalwartly Reaganite. Heritage, which has long boasted of its influence in Washington (it was literally founded to help Congress craft more hawkish defense policies and more free market economic legislation) now fancies itself as little more than a Tucker franchise, a conduit for Carlson's cable-ready populist rage, and all the "nationalist" policies that go with it.
Heritage's shift from Reaganism has been described by many as a turn to Trumpism, and it is that, of course. But it was also a turn to Tuckerism.
You're out of free articles
Create an account to unlock 1 more articles