Viral Video Claims to Show U.S. Marines Landing in Israel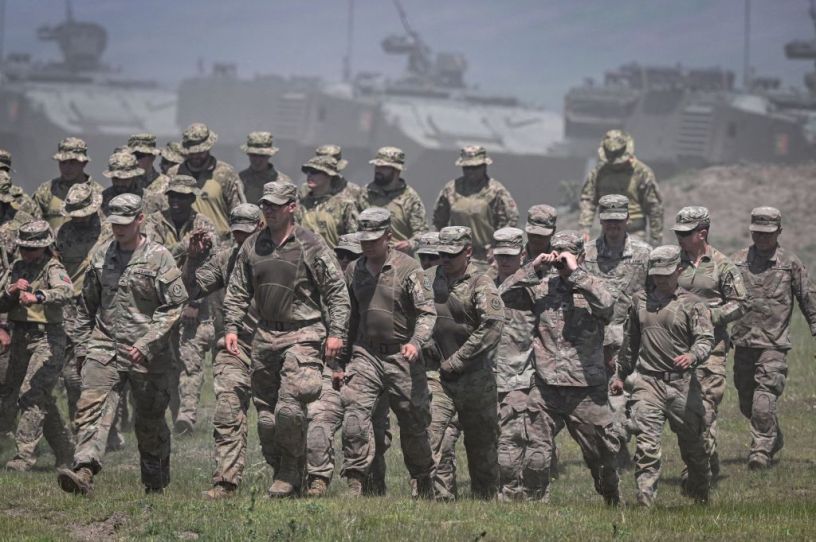 U.S. and Portuguese army personnel are pictured at Smardan military training facility, in Romania on June 3, 2022. (Photo by Daniel Mihailescu/AFP/Getty Images)
Russia's war in Ukraine prompted warnings that World War III was imminent, and similar alerts are now proliferating in relation to hostilities in Israel and the Gaza Strip. In a recent viral example, Matt Wallace—an account boasting more than 1.3 million followers— posted a tweet purporting to show "thousands of U.S. Marines" landing in Israel. "WW3 HIGH ALERT," it says. The tweet had more than 14,000 likes and 2.9 million views as of October 27.
https://twitter.com/mattwallace888/status/1717634982007480442?s=46
Wallace's tweet, however, shows neither U.S. Marines nor Israel. The referenced video is actually from June 2022, when members of the U.S. Army's 101st Airborne Division arrived in Mihail Kogalniceanu, Romania. According to an image of the arrival released by the U.S. Department of Defense (DOD), units from the 101st were sent to "support the Army's V Corps' mission to reinforce NATO's eastern flank and engage in multinational exercises with partners across Europe to reassure allies and deter further Russian aggression."
The DOD announced this week that approximately 900 U.S. troops were in the process of being deployed to the U.S. Central Command area, which covers territory across the Middle East spanning from Egypt in the west to Kazakhstan in the northeast, however none were reportedly deployed to Israel. "I won't talk specific deployment locations for these forces, I can confirm that they are not going to Israel," Pentagon press secretary Air Force Brig. Gen. Pat Ryder said of the deployment. "Deployed and deploying units include a Terminal High Altitude Area Defense battery from Fort Bliss Texas, Patriot batteries from Fort Sill, Oklahoma, Patriot and Avenger batteries from Fort Liberty, North Carolina, and associated air defense headquarters elements from Fort Bliss and Fort Cavazos, Texas," he added. The USS Dwight D. Eisenhower and USS Gerald R. Ford carrier strike groups were also directed to positions in the Middle East and eastern Mediterranean in a move to deter potential escalation of the ongoing conflict between Israel and Hamas by neighbors in the region.
If you have a claim you would like to see us fact check, please send us an email at factcheck@thedispatch.com. If you would like to suggest a correction to this piece or any other Dispatch article, please email corrections@thedispatch.com.