Vivek Ramaswamy Pitches Revival in Iowa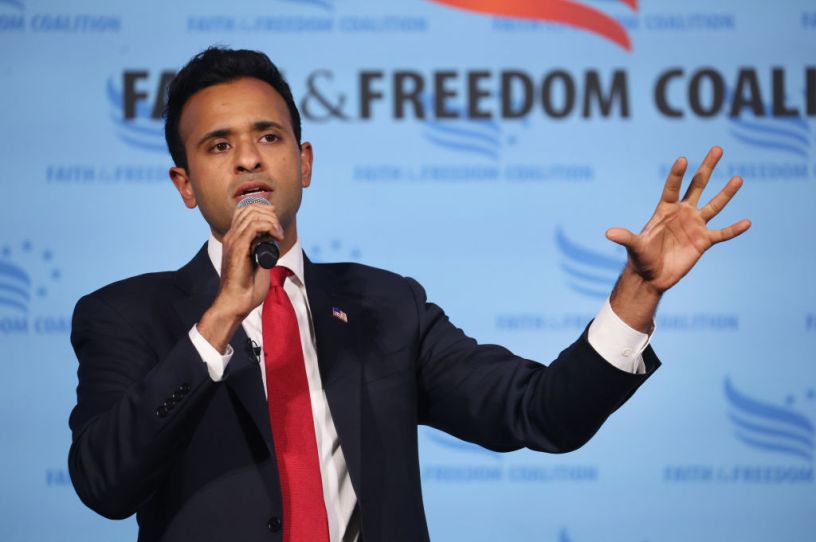 Republican presidential candidate businessman Vivek Ramaswamy speaks to guests at the Iowa Faith & Freedom Coalition Spring Kick-Off on April 22, 2023, in Clive, Iowa. (Photo by Scott Olson/Getty Images)
URBANDALE, Iowa—It could be the punchline to a joke: A hotshot megamillionaire CEO with Ivy League degrees in biology and law decides to run for president, marches into an Iowa diner decorated with farm tools, and tries to connect with heartland voters by telling them he's been censored on LinkedIn.
But for many listeners, Vivek Ramaswamy's upstart campaign is no joke. Indeed, his earnest diagnosis of America's problems—political subjugation to the federal bureaucracies, economic subjugation to China, spiritual decay and loss of national purpose—strikes a chord.
"I'm 73 years old—I've never experienced a candidate like him," said local retiree James Gilson. "I think he's authentically a man of the people, an incredible intellect, and can think in different directions." His wife called Ramaswamy "by far the smartest politician we've ever heard, and we agree with many of his ideas."
The natural question when Ramaswamy announced his campaign for president in February on a now-defunct Fox News show: Is this guy for real? Now, as he campaigns through Iowa and New Hampshire, successfully qualifies for primary debates, and makes incremental progress in the primary polls (he hit his single-poll high-water mark of 8 percent last week) it seems clear the answer is yes. He's a longshot, but that doesn't mean he's not running to win.
You're out of free articles
Create an account to unlock 1 more articles