What Calls for a Ceasefire Miss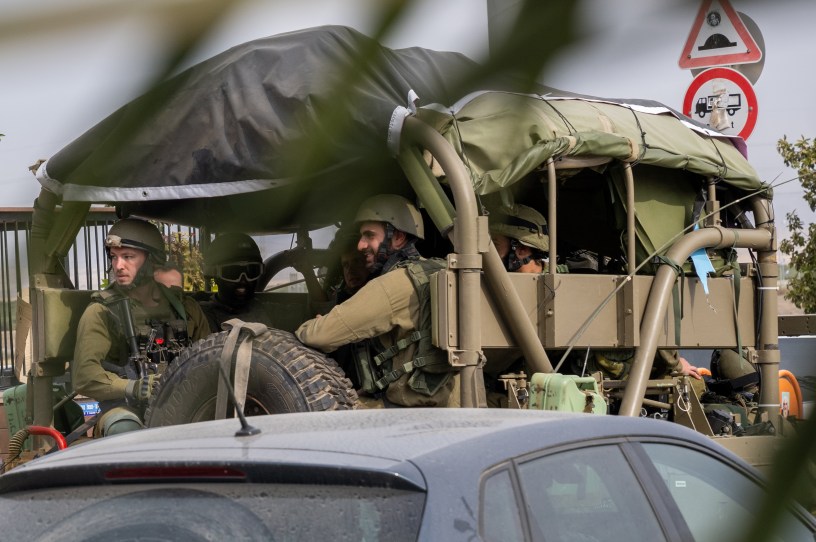 IDF reservists ride in a military vehicle on November 12, 2023 in Souther Israel. (Photo by Alexi J. Rosenfeld/Getty Images)
It's not often that Pope Francis, American progressives, and Russian President Vladimir Putin find common ground. But in the 38 days since Hamas' attack on Israel, they've all joined the growing chorus of global voices calling for a ceasefire in the ongoing war. "I implore you to stop, in the name of God," the head of the Catholic Church said this month in an impassioned plea for peace.
But for Israel, a desire for peace and demands for a ceasefire are far from synonymous. The October 7 massacre of more than 1,200 Israelis (recently revised downward from 1,400), itself a breach of a previous ceasefire agreement, punctuated a lesson learned over decades of fighting against Hamas: The group governing Gaza isn't seeking coexistence with the state of Israel. The options for Israel are now whether to cave to mounting international pressure for a ceasefire, allowing Hamas to live to attack another day, or rid the Gaza Strip of the terrorist group bent on inflicting suffering on Israelis at any cost to its own people.
Countries like Iran and China, advocacy groups like Amnesty International, and the United Nations have also been among those calling for an immediate halt in fighting amid the mounting civilian death toll in Gaza. "The nightmare in Gaza is more than a humanitarian crisis. It is a crisis of humanity," U.N. Secretary-General António Guterres said from New York this month. "The parties to the conflict—and, indeed, the international community—face an immediate and fundamental responsibility: to stop this inhuman collective suffering and dramatically expand humanitarian aid to Gaza."
The Hamas-run Gaza Health Ministry reported Monday that at least 11,000 people had been killed—a figure that, if accurate, doesn't distinguish between civilian and combatant deaths. But Israeli and American officials alike concede that civilian casualties are an inevitable consequence of the ongoing ground campaign against Hamas, even as Israel tries to minimize civilian deaths by urging the residents of northern Gaza to evacuate South.
You're out of free articles
Create an account to unlock 1 more articles