What to Expect When You're Electing, Off-Year Edition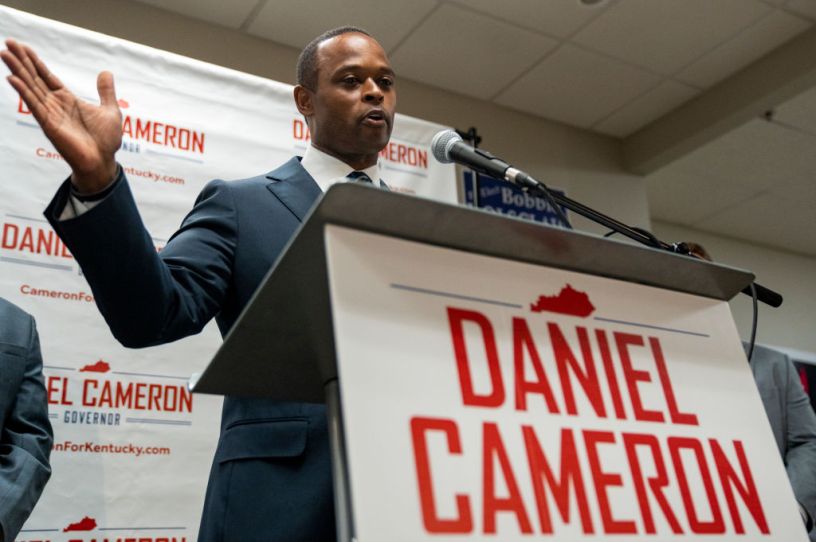 Kentucky Attorney General Daniel Cameron speaks to the press during a campaign event on November 6, 2023, in Louisville, Kentucky. (Photo by Michael Swensen/Getty Images)
Democrats are having a fit about the latest batch of very gloomy numbers for President Biden, this time from a swing-state poll conducted for the New York Times that shows Biden getting trounced in an Electoral College rematch with former President Donald Trump.
It's so bad that the old divisions between Biden and the team behind former President Barack Obama have reemerged, with former Obama adviser David Axelrod calling for Biden to drop out of the race, which came as Obama himself was pretty explicitly undercutting Biden's staunch pro-Israel line on the country's current war against Hamas.
So how bad is it for Biden? Do the polls reflect temporary dissatisfaction that will melt away once voters are forced into a binary choice with Trump? Is there something deeper going on with the electorate and the incumbent that could overcome Trump's intense negatives with voters?
Lucky for us, today offers five off-year statewide contests that will give us a clearer picture of where voters are heading, including in one presidential battleground state.
You're out of free articles
Create an account to unlock 1 more articles