An Unlikely Rout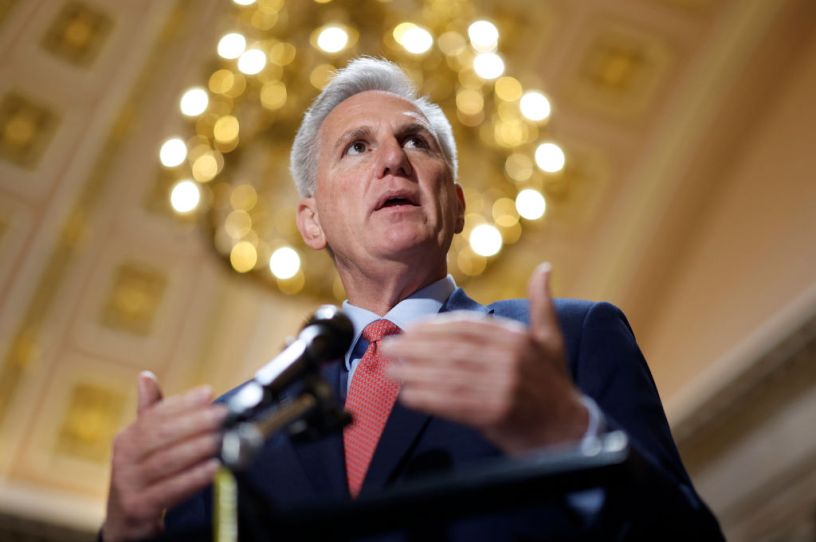 Speaker of the House Kevin McCarthy speaks to members of the media at the U.S. Capitol on May 24, 2023, in Washington, D.C. (Photo by Kevin Dietsch/Getty Images)
There are many ways to measure Joe Biden's decline, political and otherwise, but here's one that's unexpected. One of the weakest House speakers in living memory is running rings around him in a high-stakes negotiation.
Imagine being routed by a guy who needed 15 ballots and boatloads of concessions to persuade his own caucus to choose him, very grudgingly, as its leader.
It's a sacred rule of modern right-wing politics that the GOP must pretend to care about federal spending if—and only if—a Democrat is president, and so a debt-ceiling landmine was set the moment Republicans clinched a House majority last fall. But there was every reason to think that landmine would end up wounding Kevin McCarthy when it went off far more gravely than it would Biden.
The fight in 2011 was different. John Boehner led a huge House Republican majority and claimed a mandate to cut spending after Tea Party candidates swept to victory a year earlier. An electoral backlash to TARP, the 2009 stimulus package, and Obamacare all but required him to play hardball with Barack Obama over the size of government. In that context, it wasn't silly for the right to believe that the public would rally behind them.
You're out of free articles
Create an account to unlock 1 more articles