Lawyering Up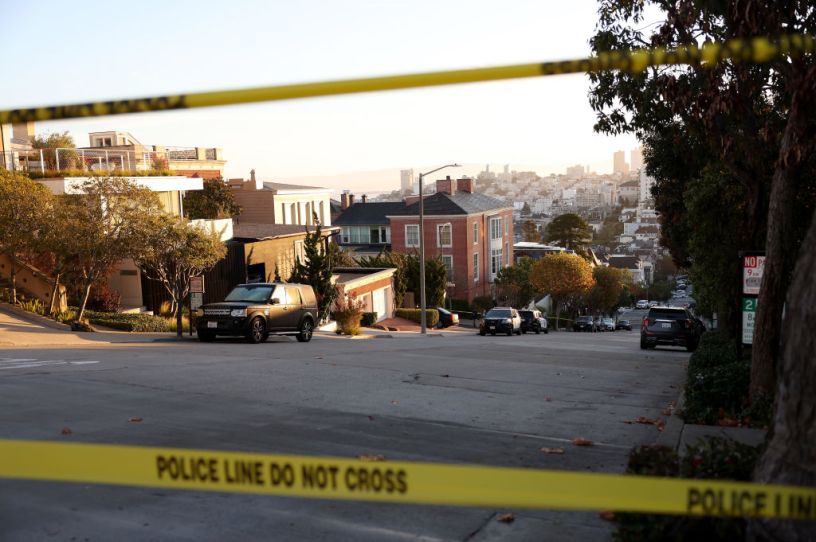 Police tape is seen in front of the home of Nancy Pelosi on October 28. (Photo by Justin Sullivan/Getty Images)
America is never more hopeless than in the hours after a lunatic goes postal.
The first wave of hopelessness hits when you learn the details, the second when left and right come out of their corners throwing roundhouses in hopes of making those details as damning or innocuous for their side as circumstances require. If you're foolish enough to participate in political social media, as I am, you know platforms reach peak toxicity at times like these.
Mass shootings are the supreme example. The talking points on gun control for the two sides are so well-worn after so many massacres that one could generate templates or script code for the next incident, with only the city needing to be filled in. Thoughts and prayers; complaints that "thoughts and prayers" are a hollow substitute for regulation; reminders that mass shootings are a tiny percentage of gun homicides; counterpoints that banning AR-15s would at least deprive spree killers of their favorite weapon; counter-counterpoints that there are too many in circulation to ban and that nearly everyone who owns one is law-abiding, etc, etc.
If you want to watch Americans talk completely past each other and make not even a pretense of behaving like normal human beings in the rush to don their partisan armor, boot up the ol' Twitter machine during breaking coverage of a mass shooting. That's hopelessness.
Get every newsletter and all of The Dispatch. Support quality, fact-based journalism.
Start Your Free Trial
ALREADY A PAID SUBSCRIBER? SIGN IN