The End of the Pro-Life Movement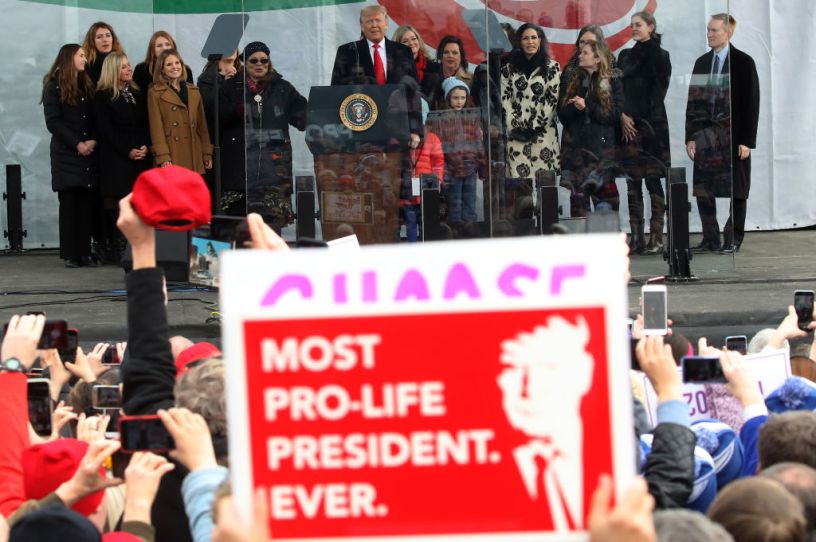 Former President Donald Trump at the 47th March For Life on January 24, 2019, in Washington, D.C. (Photo by Mark Wilson/Getty Images)
In the Republican Party, moral criticism can only properly be leveled against enemies of the grassroots right. Moral criticism of the base or one of its champions, if it's to be made at all, must be presented as political criticism.
Although Trump is leading the Republican primary by a zillion points, for example, his opponents continue to resist saying that he's unfit for office. That's because complaints about character are moral complaints, and only Democrats would make such a complaint against a populist hero. To protect their partisan authenticity, Republican challengers must repackage their criticism of Trump's unfitness as a political critique instead. A nominee who's under indictment can't win. He's unelectable.
It's a matter of demonstrating the correct priorities. The modern right treats its supreme (and really only) moral virtue as keeping the left out of power. Impugning Trump on moral grounds challenges that dogma by suggesting America might be better off with a Democrat as president than him. Impugning him on political grounds, on the other hand, is tolerated because it signals that one's priorities are in line: Because defeating the left is supremely morally important, we must have a nominee—and an agenda—that can actually win.
I was thinking about that on Sunday while watching Trump extinguish what's left of the pro-life movement during an interview on Meet the Press.