Chris Christie Gets In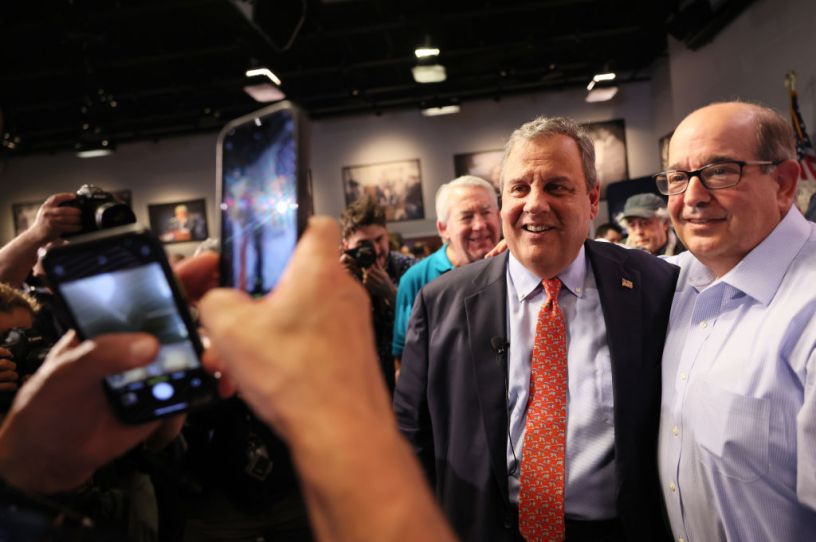 Former New Jersey Gov. Chris Christie with supporters at Saint Anselm College on June 6, 2023 in Manchester, New Hampshire. (Photo by Michael M. Santiago/Getty Images)
Happy Wednesday! It's a huge week for Republican presidential announcements, but before we get to those, let's take a moment to notice Cornel West's Monday news that he'll seek the Oval Office as a candidate for the left-populist People's Party. "Neither political party wants to tell the truth about Wall Street, about Ukraine, about the Pentagon, about big tech," West said in his announcement video. "Do we have what it takes? We shall see."
Up to Speed
Former New Jersey Gov. Chris Christie announced his second run for president at a town hall in New Hampshire Tuesday night. He won't keep the launch spotlight for long: former Vice President Mike Pence and North Dakota Gov. Doug Burgum are both announcing their own runs this evening. You can watch Pence's launch video here and Burgum's here.
New Hampshire Gov. Chris Sununu announced Monday he will not run for president after months of flirting with the possibility. In an op-ed announcing his decision, Sununu warned that too-crowded a field would help former President Donald Trump, and that "if he is the nominee, Republicans will lose again. Just as we did in 2018, 2020, and 2022."
Federal investigators looking into Donald Trump's handling of classified documents after leaving office have been asking questions about an event last October, when an employee at Trump's Mar-a-Lago resort drained a swimming pool and flooded "a room where computer servers containing surveillance video logs were kept," CNN reported Monday.
Conservative hardliners in the House spiked a Republican messaging bill preventing the banning of gas stoves on Tuesday, saying they were frustrated by House Speaker Kevin McCarthy's concessions to President Joe Biden during debt ceiling negotiations. But the malcontents have for now backed away from their most robust theoretical anti-McCarthy tool: a motion to strip him of his speakership.
Chris Christie Gets In
GOFFSTOWN, New Hampshire—Chris Christie is running for president again. The former two-term New Jersey governor announced his run with a town hall Tuesday night at Saint Anselm College, kicking off a campaign that promises to woo voters in New Hampshire and attack former President Donald Trump.
Throughout the two-hour event, Christie laid into Trump over his personal and political failings, from his admiration of foreign dictators to his inability to cut federal spending during his first term. To the extent Christie went after other candidates, it was over their reluctance to criticize the frontrunner as openly themselves.
"'We need a leader who looks forward, not backwards'—I get it, you're talking about the way the 2020 election was stolen," Christie said, mocking his competitors' tiptoeing rhetoric. "And you won't say it wasn't stolen."
You're out of free articles
Create an account to unlock 1 more articles