Donald Trump Facing New Charges in Classified Documents Case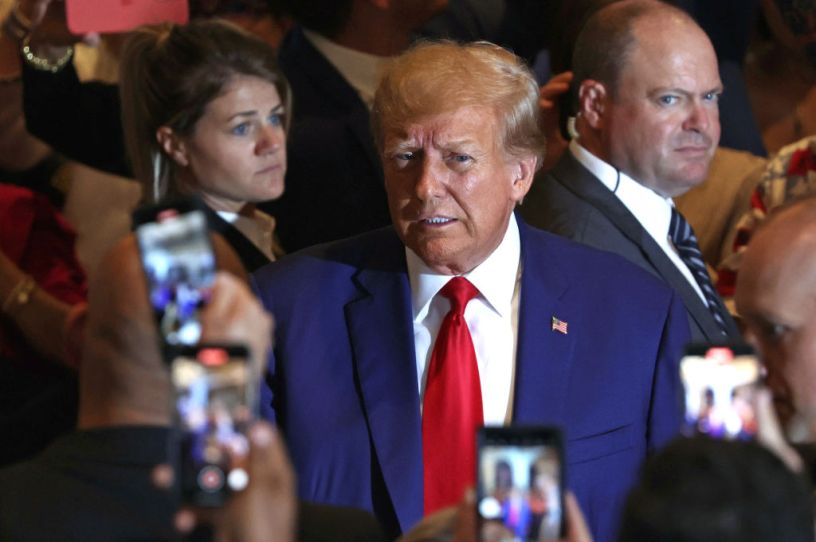 Former President Donald Trump arrives at an event at the Mar-a-Lago Club on April 4, 2023 in West Palm Beach, Florida. (Photo by Alex Wong/Getty Images)
Happy Friday! Thought you'd never live to see the word "bro" in a federal indictment involving a former U.S. president? Well, then, this is your lucky day!
Up to Speed
During remarks at a weekly news conference on Wednesday, Senate Minority Leader Mitch McConnell froze midsentence and remained silent for 19 seconds before Sen. John Barrasso of Wyoming, a physician and the Senate Republican Conference Chairman considered a possible McConnell successor, escorted the Kentucky Republican from the podium. McConnell returned soon after and said, "I'm fine."
In March, McConnell fell at a private dinner, sustaining a concussion and a fractured rib, and he fell again on July 14 while disembarking a plane, NBC News reports. McConnell has also used a wheelchair as a precaution in crowded airports. Nevertheless, Sen. John Cornyn of Texas—another potential McConnell successor—said the leader remains "as sharp as he ever was" and insisted he will "support Sen. McConnell as long as he wants to continue to serve."
Speaking of elderly U.S. senators: At a Senate Appropriations Committee hearing on Thursday, 90-year-old Sen. Dianne Feinstein appeared confused when called on to vote. Instead of casting a vote in favor of a proposed defense appropriations bill, she began to deliver prepared remarks. Only after an aide whispered in the California Democrat's ear and Sen. Patty Murray of Washington told her to "just say aye," did she cast her vote.
During a chaotic day in a Wilmington, Delaware, courtroom on Wednesday, a plea deal with federal prosecutors that would allow Hunter Biden to avoid jail time fell apart. Prosecutors and Hunter Biden's lawyer Chris Clark clashed over whether the plea would leave Hunter Biden vulnerable to additional charges, and U.S. District Judge Maryellen Noreika questioned the constitutionality of their agreement. With no deal in place, Hunter Biden pleaded not guilty to all charges.
During an interview on Wednesday, Florida Gov. Ron DeSantis was asked whether he would consider Robert F. Kennedy Jr. as a running mate. DeSantis answered, "If you're president, you know, sic him on the FDA if he'd be willing to serve or sic him on CDC. But in terms of being veep, if there's 70 percent of the issues that he may be averse to our base on, that just creates an issue." In response, former Vice President Mike Pence tweeted, "When I am President, I will only consider Pro-Life Americans to lead FDA, CDC, or HHS. To be clear, pro-abortion Democrats like RFK, Jr. would not even make the list."
While interest rate increases have slowed this year, a quarter percentage point increase by the Federal Reserve will bring interest rates to a 22-year high. It is the 11th rate increase since March 2022, when interest rates were near zero.
Former U.S. Ambassador to Iceland Jeffrey Ross Gunter is expected to announce a run for Senate in Nevada in early August. Gunter, a dermatologist and GOP donor, would join a Republican primary with Jim Marchant, the GOP's 2022 candidate for Nevada secretary of state, and retired Army Capt. Sam Brown, who has received the National Republican Senatorial Committee's endorsement and raised over $400,000 in his first week as a candidate.
Ron Gidwitz, a longtime Illinois Republican activist who was Donald Trump's state finance chair during his 2016 run, has endorsed Chris Christie for the Republican nomination. "He knows how to work across party lines, which is terribly important as opposed to having a constant battle between Republicans and Democrats," said Gidwitz. "And he's the only candidate in the race today who seems to have the courage to call out Donald Trump on the campaign trail."
Trump and Aides Hit with New Charges in Mar-a-Lago Indictment
In a superseding indictment unsealed by the Justice Department on Thursday, special counsel Jack Smith has brought three additional felony charges against former President Donald Trump in the Justice Department's classified documents case.
The updated indictment ups the ante on Trump's legal woes by charging him with two additional counts related to his alleged attempt to destroy surveillance footage with the help of his aide, Walt Nauta, and Mar-a-Lago employee Carlos de Oliveira, who as of Thursday is now a third defendant in the case. Thursday's indictment also includes a third Espionage Act charge involving Trump's willful retention of a document involving military plans in Iran after leaving office, and his alleged decision to show the document to individuals who were not authorized to see them.
A Trump campaign spokesman dismissed the charges out of hand as a "desperate and flailing attempt" to undermine the former president amid his reelection bid. Be sure to read today's Morning Dispatch for a detailed explainer of Thursday's superseding indictment charges.