Glenn Youngkin Plays the Education Hits Ahead of Virginia Elections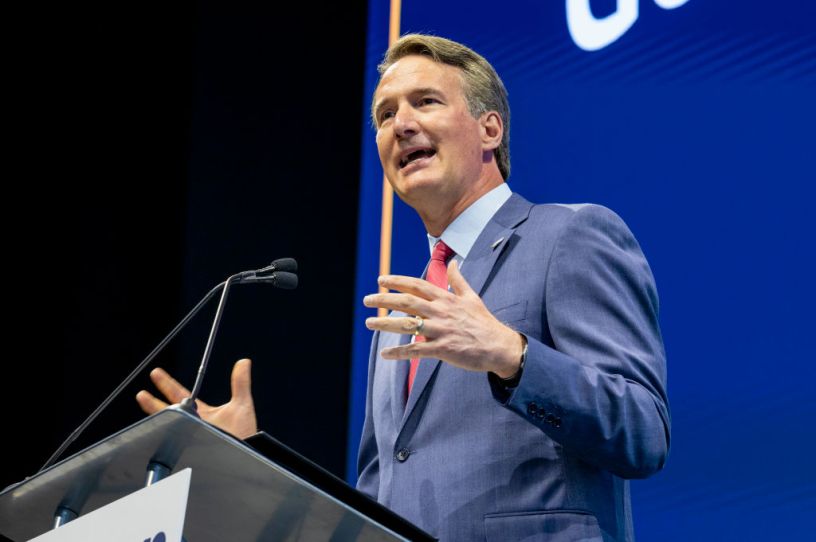 Virginia Gov. Glenn Youngkin speaks at the grand opening of Amazon HQ2 in Arlington, Virginia, on June 15, 2023. (Amanda Andrade-Rhoades/For The Washington Post via Getty Images)
Happy Wednesday! This is not the kind of headline the White House likes to wake up to, especially when it accompanies a piece from one of the premier mainstream liberal columnists: "President Biden should not run again in 2024."
Up to Speed
House Speaker Kevin McCarthy announced Tuesday he is directing the Republican-led House Judiciary, Ways and Means, and Oversight committees to lead an impeachment inquiry into President Joe Biden, citing concerns over his involvement with his son Hunter's overseas business dealings while serving as vice president. No concrete evidence has yet emerged to suggest that Biden profited off of or influenced his son's overseas business dealings.
In a statement about the announcement, the White House dismissed the effort. "They have no evidence, so they're launching the next phase of their evidence-free goose chase simply to throw red meat to the right wing so they can continue baselessly attacking the president to play extreme politics," said Biden spokesman Ian Sams.
John Tuttle, a vice chair of the New York Stock Exchange, is abandoning tentative plans to launch a Republican primary bid for retiring Democratic Sen. Debbie Stabenow's seat in Michigan, sources familiar with his plans tell The Dispatch. Politico first reported the news. This apparent change in thinking comes after former House Intelligence Chairman Mike Rogers announced his Republican primary bid and former GOP Rep. Peter Meijer launched an exploratory committee in anticipation of a likely announcement.
Ex-hedge fund CEO Dave McCormick is planning to announce later this month a Republican primary bid for Democratic Sen. Bob Casey's seat in Pennsylvania, Reuters reports. McCormick, who narrowly lost the Pennsylvania GOP's 2022 Senate primary to TV personality Mehmet Oz last year, has spent the past few months launching a political action committee, hiring staffers, and consolidating support from local GOP leaders. Dispatch Politics obtained a letter that's being circulated by McCormick ally and Allegheny County Chairman Sam DeMarco urging McCormick to run. The list of signatories includes state GOP Chairman Lawrence Tabas, GOP Reps. Dan Meuser and Mike Kelly, both of Pennsylvania's RNC committee members, and dozens of GOP county chairs.
Vivek Ramaswamy is standing by Bruce Fenton, the New Hampshire co-chair of his presidential campaign, despite him referring to Israel as an "apartheid state," the New Hampshire Journal reports. "Vivek just spoke to Bruce and told him very directly that he strongly disagrees with him on this issue, and they left it at that," Ramaswamy campaign spokeswoman Tricia McLaughlin says. Fenton has also expressed conspiratorial views about the September 11, 2001, terrorist attacks.
The Washington Post reports that a Democratic candidate in a competitive race for the Virginia House of Delegates "performed sex acts with her husband for a live online audience and encouraged viewers to pay them with 'tips' for specific requests." The live video was recorded and reposted on another site, which the Post says was shared with them by a Republican operative. The candidate, Susanna Gibson, told the paper that the resurfacing of the video was "an illegal invasion of my privacy designed to humiliate me and my family."
Youngkin the Education Reformer Rides Again
LEESBURG, Virginia—Gov. Glenn Youngkin has returned to the campaign trail with an ambitious effort to lead a Republican takeover of the Virginia General Assembly that, if successful, could cement his position as a future White House contender. And he's focusing on an issue that carried him to an unlikely victory two years ago: education.
"Children belong to the parents and not the state—and we know that," Youngkin tells a cheering, standing room-only crowd of approximately 500 grassroots conservatives who gathered Tuesday to hear the governor's further plans for public education reform.
The comment comes during a signature, "Parents Matter" town hall meeting, one of half-dozen or so Youngkin has hosted across the commonwealth to boost Republicans running in targeted districts in the November 7 off-year legislative elections.