Nikki Haley Knocks Donald Trump's China Policy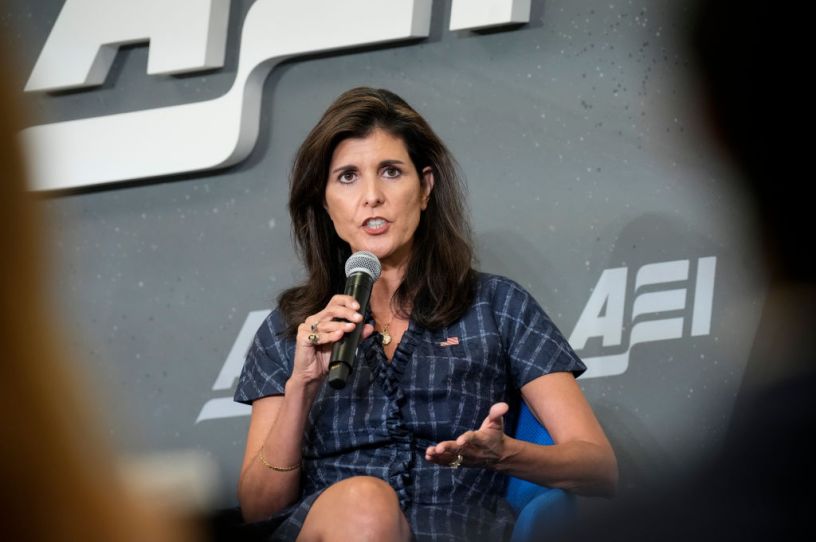 Former U.N. Ambassador Nikki Haley speaks at the American Enterprise Institute on June 27, 2023 in Washington, DC. (Photo by Drew Angerer/Getty Images)
Happy Wednesday! Pour one out for Miami Mayor Francis Suarez, who—fresh off the high of his GOP presidential launch last week—walked unprepared into the buzzsaw of a Hugh Hewitt interview Tuesday. "Will you be talking about the Uyghurs during your campaign?" Hewitt asked. "What's a Uyghur?" Suarez replied. The candidate later claimed he is familiar with the ethnic group facing oppression and genocide in China, but had been thrown by Hewitt's pronunciation of the word.
Up to Speed
'He Showed Weakness': Nikki Haley Kicks Trump on China
Nikki Haley has started kicking sideways.
In a Tuesday speech, the former governor and ambassador and current presidential candidate unveiled details of her China policy—and used the opportunity to denounce Donald Trump's approach to Beijing as wholly inadequate. It was the sort of criticism Haley once dismissed as "kicking sideways" versus "kicking forward" at President Joe Biden—whose dealings with China she also dissected during a speech and subsequent Q&A at the headquarters of the conservative American Enterprise Institute here in Washington.
"President Trump was almost singularly focused on our trade relationship with China," Haley argued. "But Trump did too little about the rest of the Chinese threat. … He did not put us on a stronger military foothold in Asia. He did not stop the flow of American technology and investment into the Chinese military. He did not effectively rally our allies against the Chinese threat."
You're out of free articles
Create an account to unlock 1 more articles